I have been terrified of the idea of giving my 2-year-old sushi that contains raw fish. My husband does not seem bother as he thinks the bacteria is good for her (-_-). Call me overprotective as it seems but I rather be safe than sorry. Having said that I do not want to take the fun of eating sushi away from her. That's why this baked salmon quinoa sushi was born. The baked salmon and bell pepper give this quinoa sushi a kind of funky texture if you know what I mean
. It is like you are eating sushi rice with some BBQ-ed fish and vegetable. Well, not quite like but you get the idea. Also quinoa sushi rice? What? Yup, I thought this protein & iron rich grain would be a great complementing element for the salmon and bell pepper. And it does! They indeed go very well together.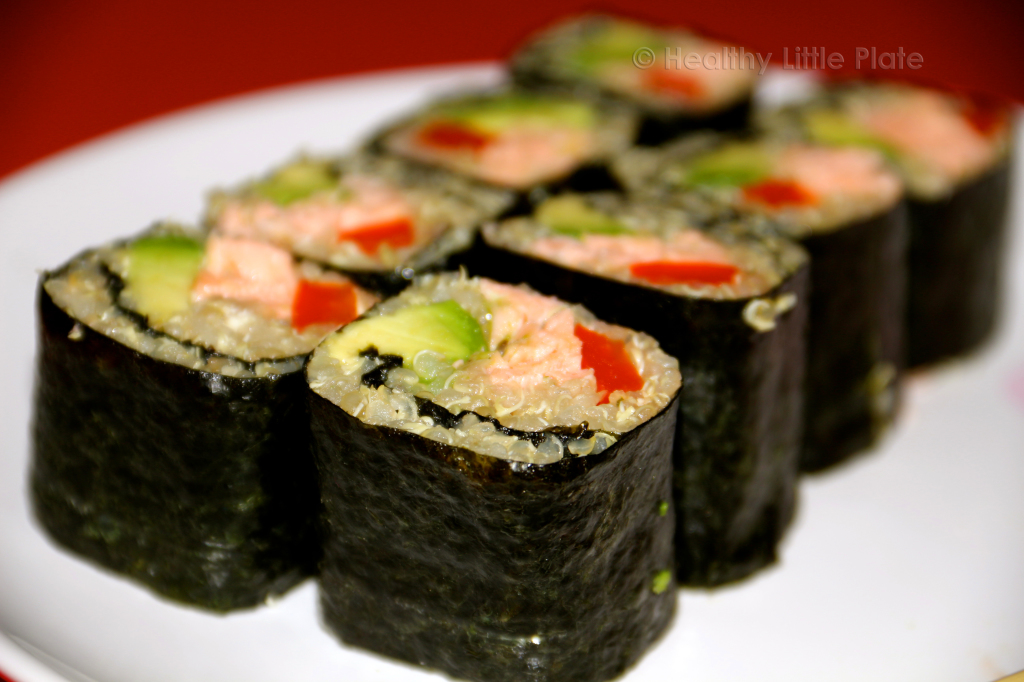 Baked Salmon Quinoa Sushi
Ingredients
• 1 cup cooked quinoa
• 100 gram wild salmon
• ½ red bell pepper
• 3 roasted nori sheets
• ½ ripe avocado
• ½ tsp. dried dill
• Salt and pepper to taste
Instructions
Cook the quinoa according to package instructions.
Preheat your oven to 200 degree C. Line your baking sheet with aluminum foil.
Deseed the bell pepper and bake for 20 minutes at 200 degree C. When ready, slice into stripes.
Sprinkle the dill, salt and pepper on to all sides of the salmon. Bake for 10 minutes or until cooked through (when the bell pepper is 10 minutes through in the oven, put the salmon in). When ready, remove from oven and with a very sharp knife cut the salmon down into stripes (you need about 6 stripes of 8-9 cm long). Alternatively you can also flake the salmon.
Remove seed and skin from the avocado. Slice it into thin slices.
Place a nori sheet onto your sushi mat, spread half of the quinoa over it so that the quinoa cover the whole nori sheet (keep about 1 cm at the far end of the nori sheet uncovered with quinoa). Place the salmon, bell pepper stripes and the avocado slices on top of the quinoa in a straight horizontal line. Lift the front of the bamboo mat closet to you and begin to roll the sheet tightly. Just before reaching the end of the nori sheet, wet the exposed strip with a bit of water. Roll further to join the edges of the nori sheet.
Serve as whole or slice up with a very sharp knife. In order to make it easier to slice, dip the whole knife into cold water before and after every slicing. Served with light soy sauce.
Please excuse my not so beautiful photos this time. By the time I finished making these sushi rolls, it was already dark so I did not get any natural light. I hope you (and your little one of course) like this quinoa sushi idea. Do not hesitate to try, it is much easier to make than you think. Give it a try 😉
By the way, I serve it to Angela whole instead of cutting them up like this. That way it is easier for her to eat and it results in a much smaller mess for me to clean up 😀 .