Beets and oatmeal? What? That was exactly my reaction when the thought of adding beets to my daugter's breakfast first came to me. I looked around on the web and there are not many recipes that call for beets and oatmeal together especially not in a breakfast recipe. I thought, maybe they just do not work well together that's why or maybe noone has found a way to make them work well together. Hmmm then I became even more excited to try out this beet oatmeal combination.
I thought adding only beet puree to oatmeal would be too overpowering especially for a toddler's palate. So I boiled the beets instead, reserved the cooking beet water for this recipe (and about 3 tablespoons boiled beet puree) and the actual beets for another recipe (coming soon on Healthy Little Plate). And guess what? It worked! The water reserved from boiling the beets has just the right amount of sweetness to add some dimension to the plain oats. The taste did not come out too strong so we can still taste the creamy oats with some beets accents. It is just so refreshing and delicious. And look at that stunning color! This kind of breakfast will definitely light up someone's day. I'm going to make this beet oatmeal more often as all it takes is 10 minutes (considering you have already boiled some beets the night before)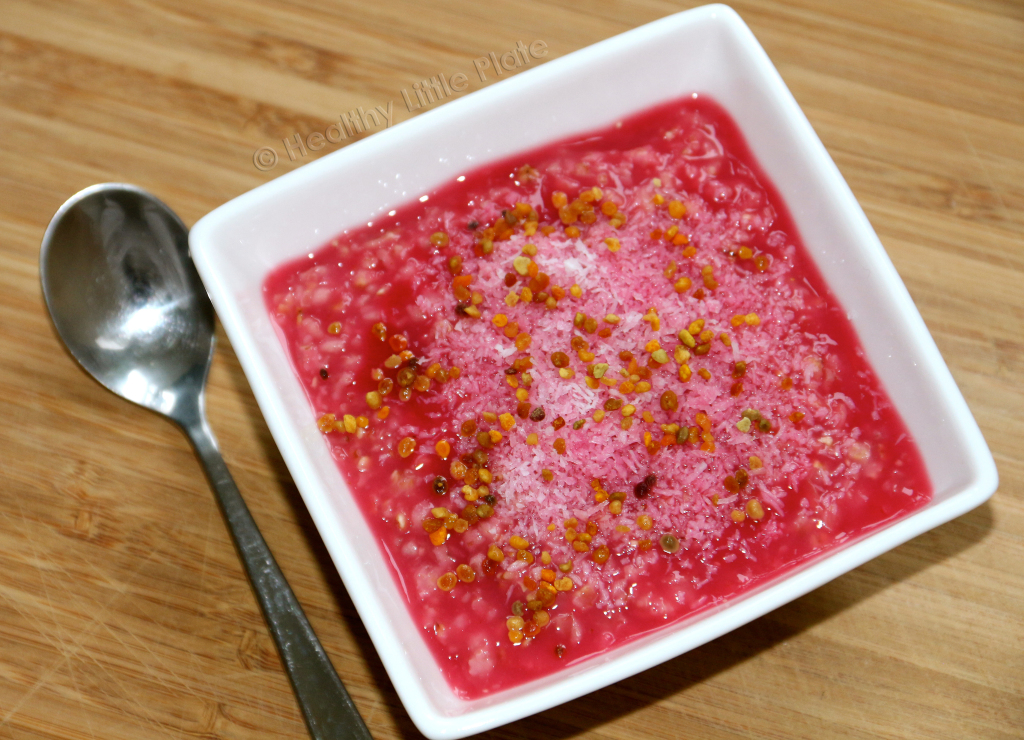 So from now on, if you plan to do something with beets. Save some to boil and keep the cooking water for this beet oatmeal recipe ;). The boiled beets water can be kept in fridge for 3 days.
Quick instructions on how to boil beets.
Put on gloves before you start peeling beets to avoid stain.
Remove beets skin with a sharp knife (normally I do not remove the skin before boiling if I do not intend to use the cooking water afterwards). Quarter the beets. Place in a saucepan and make sure the beets are well covered in water. Bring it to boil for 10 minutes. Turn down the heat and let it simmer for 20-30 minutes (depending on the size of your beets). Turn off the heat, keep the cooled beets and cooking water in fridge.
Note: after boiling the color of the beets and water will be somewhat deep pink brown. It becomes light pink after cooling down (and even lighter after being chilled)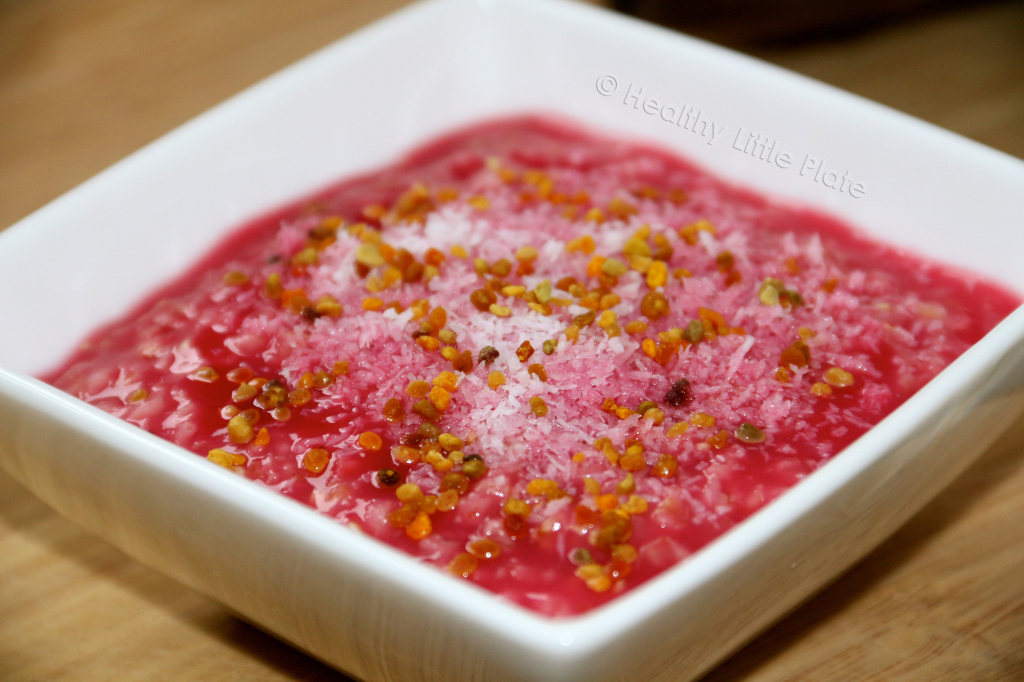 Ingredients
• 3 tbsp. quick oats
• 100 ml milk of your choice
• 150 ml chilled reserved beet cooking water
• 3 tablespoon boiled beet puree
• Sweetener of your choice (I used honey)
• 1 tsp unsweetened desicated coconut
• ½ tsp bee pollen
Instructions
Warm up the milk on medium heat (do not let the milk boil). Add the oat and keep stirring until almost all the milk is absorbed by the oat (takes about 5-7 minutes for this process depending on the heat strength).
Add the beet water and the beet puree. Cook further for 30 seconds and turn off the heat. Stir till the oat is evenly combined.
Top with honey, desicated coconut and bee pollen. Serve immediately.