Toddlers are finicky by nature. My daughter is no exception. On a beautiful day she decided to hate broccoli – one of her all time favorite foods – without any prior announcement. She used to play with broccoli florets as if they were trees, she would have a kind of interesting conversation with them as if they could communicate then eat them happily after (that sounds a bit brutal, I know). And now they cannot make it anywhere near her high chair tray. If I try hard to put them on her plate, bad move, they will end up on the floor a second later (!). I am so against food waste (for obvious reasons) but I just cannot bring myself to eat her leftover anymore. So what do I do? I don't want her to miss this nutrients-rich vegetable but I am so against force-feeding. I stop serving her broccoli in broccoli shape. I serve them broccoli tots instead.
These broccoli tots are a great for toddlers who like to self-feed. They are small enough for their tiny fingers to grab, yet not too small that they might choke on. To make it fun, I serve them to my daughter with some dipping sauce (you can find my homemade tomato sauce recipe that goes very well with these broccoli tots here). The good news is, she did not throw any of them on the floor. The not so good news is, she wanted to eat many of them that she did not have much room left for other food. I will take that for now since these broccoli tots contain carb, protein, healthy fat and veggies. That is a well-balanced meal in my book. Have fun recreating these.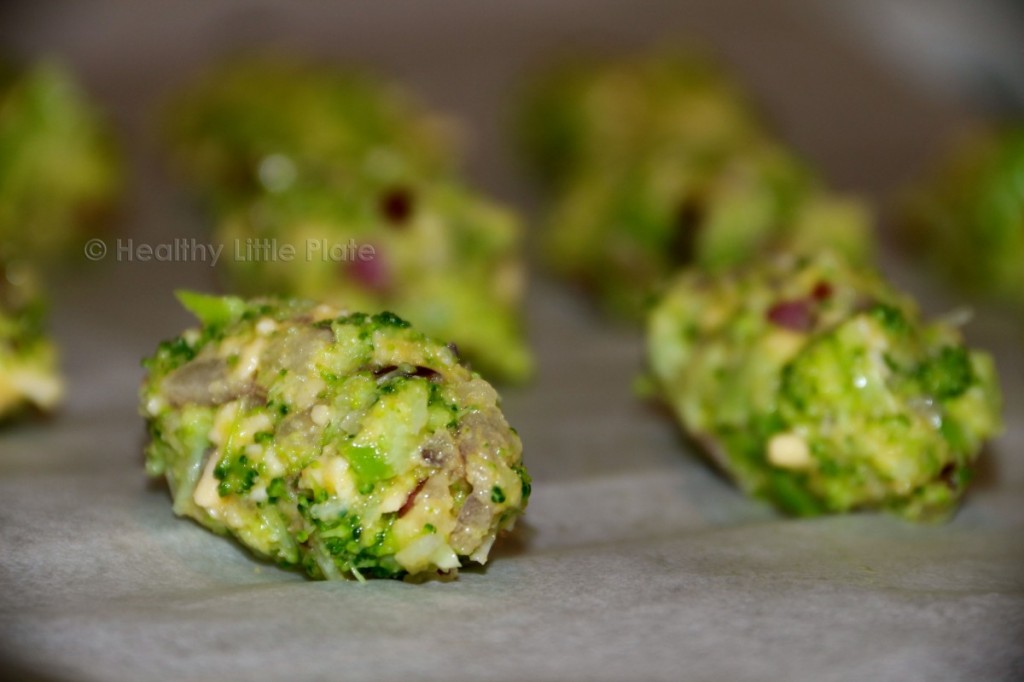 Ingredients
• 1 ½ cup cooked broccoli florets (see method for instruction)
• 1 large egg
• 1/4 cup corn flour
• 1/3 cup breadcrumbs
• 1 cup grated reduced fat sharp cheddar cheese
• ½ purple onion, very finely chopped
• 1 tbsp. extra virgin olive oil
• 1 tsp. garlic powder
• Salt and pepper to taste (I didn't use any salt since the cheese is salty enough for Angela)
Instructions
Place the broccoli florets onto your steamer and steam for 10 minutes until cooked but not mushy (if your steamer is already boiling, then it only takes 4 minutes for the broccoli to be ready). If you do not own a steamer you can also boil the broccoli but you need to drain them and dry them well after boiling.
With a big knife, chop the steamed broccoli finely. I don't suggest using your food processor because it can over chop your broccoli & turn it into a broccoli powder instead.
In a mixing bowl, mix all ingredients together until everything is well combined. Cover the bowl with cling film and place in your fridge to rest for an hour.
Preheat oven to 200 degree C. Line your baking tray with good quality parchment paper.
Take the mixture out of your fridge. Spoon a spoon full of the mixture on to your hands and shape it into tots-size (or oval). You can try shaping them into different shapes but I found this shape holds the mixture together better. Repeat with the rest of the mixture.
Transfer the tots onto baking tray and bake for 10 minutes. Turn the tots over and bake through for 8- 10 minutes or until golden brown. Serve with tomato sauce.