Cauliflower is one of the vegetables that do not get much attention in my household. Do not get me wrong. I still buy it from time to time but it somehow gets pushed to the back of our fridge and be out-shined by other more appealing vegetables like broccoli, kale, spinach, celery, beet roots and many more. I know that it is there but when it is time to cook I tend to ignore its existence for as long as possible until I run out of other greens. Its mild taste (my husband insists that it has no taste!) seems to be the reason why it does not win us over. I am fully aware of the fact that this is a nutrient rich vegetable just like its cousin green broccoli (for nutrition facts of cauliflower read here) so I decided to give it a makeover. And here we are with these cauliflower bites. It is a bit of an understatement to say that this cauliflower bites taste a bit better than the original steamed cauliflower. In fact they taste miles better! They are a bit crunchy, buttery, sweet and aromatic. They definitely make a great healthy snack option for your toddler.
Since Angela's foods are mostly very mild in taste, she does not seem to mind the bland steamed cauliflower at all. But she never ate a bowl of steamed cauliflower as snack before, yet she did today with these cauliflower bites. That's how good they are ;). And if you are struggling to add more veggies to your tots' diet, this is a quick way to do so without much effort (it takes you like a minute to prepare and you just have to let your oven do the rest of the work).
Have fun cooking!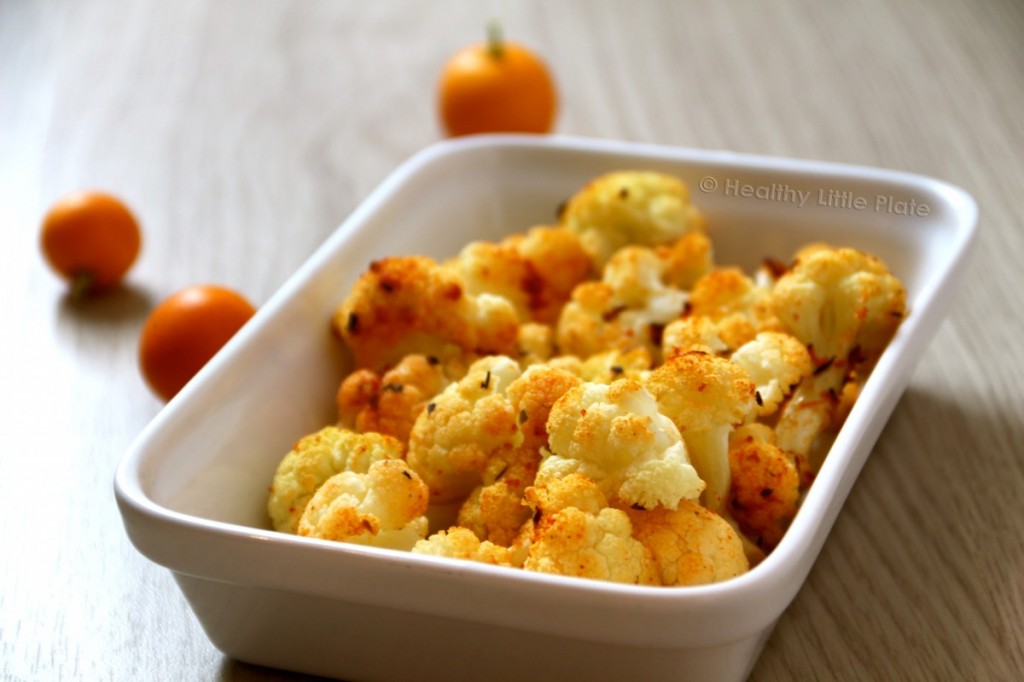 Ingredients
1/2 head of a medium cauliflower (about 1 cup)
1 tbsp. sweet paprika powder
1 tsp. Italian herbs
1 tsp. turmeric powder
1 tsp. garlic powder
1 tbsp. vegetable oil (I used coconut oil)
pinch of salt and pepper (adjust the amount depends on age)
Instructions
Preheat your oven to 200 degree Celsius. Line an oven tray or rack with aluminum foil.
Wash and chop the cauliflower into bite-sized chunks. Pat dry with a paper towel.
Mix all the spices and oil together. Toss the cauliflower chunks in the mix and make sure all chunks are well covered by the mixture.
Transfer the coated cauliflower to your lined tray and bake for 20 minutes. Depends on the strength of your oven it can take a couple of minutes more until crunchy and cooked through.
You can serve these cauliflower bites as they are, dip them in a sauce of your choice or pair it with any protein that you desire.