If you are looking for something healthy, compact, hearty and delicious to put into your preschooler's lunchbox, these Chia-hempseeds Energy Cookies are no-doubt on the list. Toddlers are curious and distracted by almost everything around them so they might not eat as much as they are supposed to (especially at kindergarten). Because of that, when they eat you want to make sure that they are filled up with necessary goodness for their body. And these Energy Cookies will do exactly that: fill up your toddler with goodness. These Energy Cookies are full of healthy fats, protein from the seeds and peanut butter plus a lot of iron and fiber from the oats. These cookies are not overly sweet but they are still full of flavor. They are slightly chewy in the center but crumbly once you bite on the outside.
I have said this many times to my friends who worry that their kids do not eat enough and I want to say it again here. You should not worry that your kids do not eat enough, you should worry that your kids do not eat right. Do not focus on the amount; try to spend your energy and time to make them healthy food instead. That way does not matter how much they consume, you know 100% sure that at least they eat what are good for their body. So instead of packing some sugar-filled cookies for their lunchbox, replace those with these Energy Cookies ;).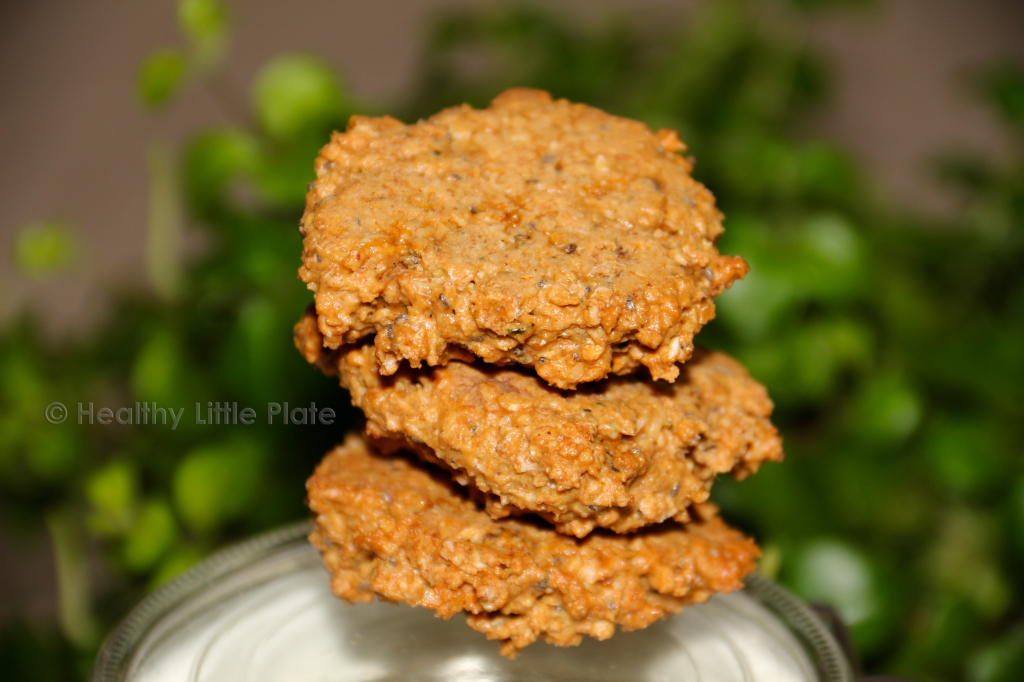 If your little one is allergic to nut, you can replace the peanut butter with any homemade seed butter of your choice. You can also throw in a bunch of dark chocolate chips if you would like. I skipped that part because Angela actually prefers the non-chocolate version.
Happy Baking!
Ingredients
• 1 ½ cup quick oats
• ½ cup whole-meal spelt flour
• ½ cup coconut sugar
• 1 large egg
• 3 tbsp. melted coconut oil, cooled
• 2 tbsp. unsalted peanut butter (I use our homemade peanut butter but you can use store-bought one if you wish)
• 1 tbsp. chia seeds
• 1 tbsp. hempseeds
• 2 tbsp. unsweetened shredded coconut meat
• 1 tsp. baking powder
• 1 tsp. baking soda
Instructions
Preheat oven to 180 degree C. Line a baking sheet with parchment paper.
In a large mixing bowl, mix all the dry ingredients together (you can do this using your mixer too). Transfer the mixture to your mixer and slowly add in the coconut oil, egg, and peanut butter respectively.
Scoop a tablespoon full of the mixture onto the prepared baking sheet. Press it down gently to flatten. Allow some room between the cookies (cookies will not expand much though).
Bake for 15 minutes (I flip the cookies after 10 minutes). Let it cool down on a wire rack. Serve immediately or store in an airtight container for up to 4 days.