This Prawn Rösti is what I call dressed-up traditional Swiss rösti ;). There is absolutely nothing wrong with the traditional potato rösti, in fact it is very tasty when served with some smoked salmon and cream cheese. But after eating too many of those plain potato rösti, I just decide to dress them up a bit in some fancy costume made with prawn paste and herbs.
This Prawn Rösti is not only crunchy on the outside and soft on the inside just like the plain old potato rösti, but has it also some aromatic tasty punch from the chives, parsley and prawns. The best way to make these rösti is to parboil potatoes the night before and leave them in your fridge (after they cool down) and use them the next day. When I do not have time to chill the pre-cooked potatoes over night, I make them in the morning and use them in the afternoon. It works too ;). Either way, make sure your pre-boiled potatoes are thoroughly chilled before you start grating them so that they hold their form.
Have fun cooking!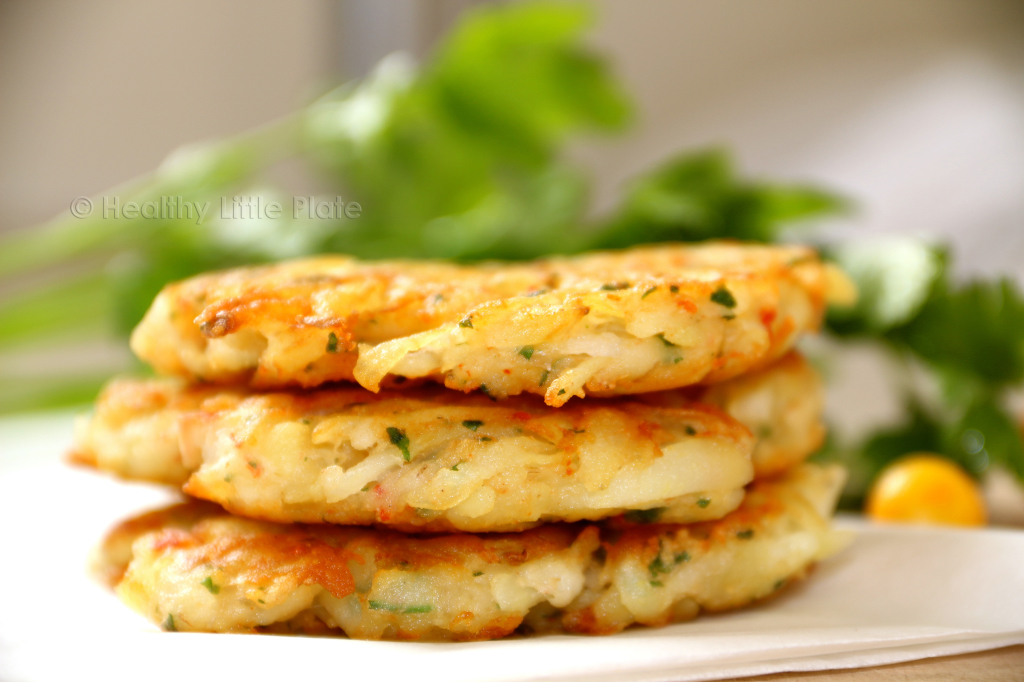 Ingredients
• 3 medium waxy potatos
• 200 grams fresh prawns (I used wild tiger prawns)
• 1 tsp. fresh chives, chopped
• A few parsley leaves, chopped
• Salt and pepper to taste
• Oil to shallow fry
Instructions
Wash the potatoes, place in a saucepan and cover with cold water. Parboil the potatoes until just tender (I let it cook for about 5 minutes after the water starts boiling – depends on the size of the potatoes it might be a few minutes more or less). Do not over cook it or the potatoes will be too soft to work with!
Take potatoes out, drain well and let it cool down before chilling for a couple of hours.
Peel the prawns and transfer to your blender. Give it a quick blend until it turns into paste (this takes about 10-15 seconds only). Alternatively, you can hand chop the prawns on a chopping board as well.
When the potatoes are chilled. Take them out and grate them coarsely. Add the prawns, chopped chives, parsley, salt, pepper and give it a thorough mix.
Heat some oil in a frying pan. Scoop a spoonful of the potato mixture onto the pan and press down lightly to form a cake shape. Fry for about 5-7 minutes each side or until golden brown.
If you want to freeze some, freeze the fried rosti on a flat tray in your freezer for about 1 hour. Take them out and put in a zip lock bag. When you want to eat them just take them out and pop them straight into your oven then broil for about 10 minutes (or until crunchy).