Healthy fats play a very important role in every child's growth. Unlike to adults, a low-fat diet can really affect toddlers' growth negatively (both physically and mentally). Research has shown that attention deficit and eye disease in children are caused by their low level of essential fatty acids such as Omega 3. Don't get me wrong! I am not telling you to go and feed your tots a lot of fried food (fried in processed oil) or mayonnaise. These are not the types of fats that I am talking about. I'm talking about healthy nutrients rich fats in seeds, nuts, avocado, cold pressed organic vegetable oils, fish, liver and so on. I am talking about foods that are rich in Omega (3,6,9), essential minerals and vitamins. I am talking about this seed crackers recipe.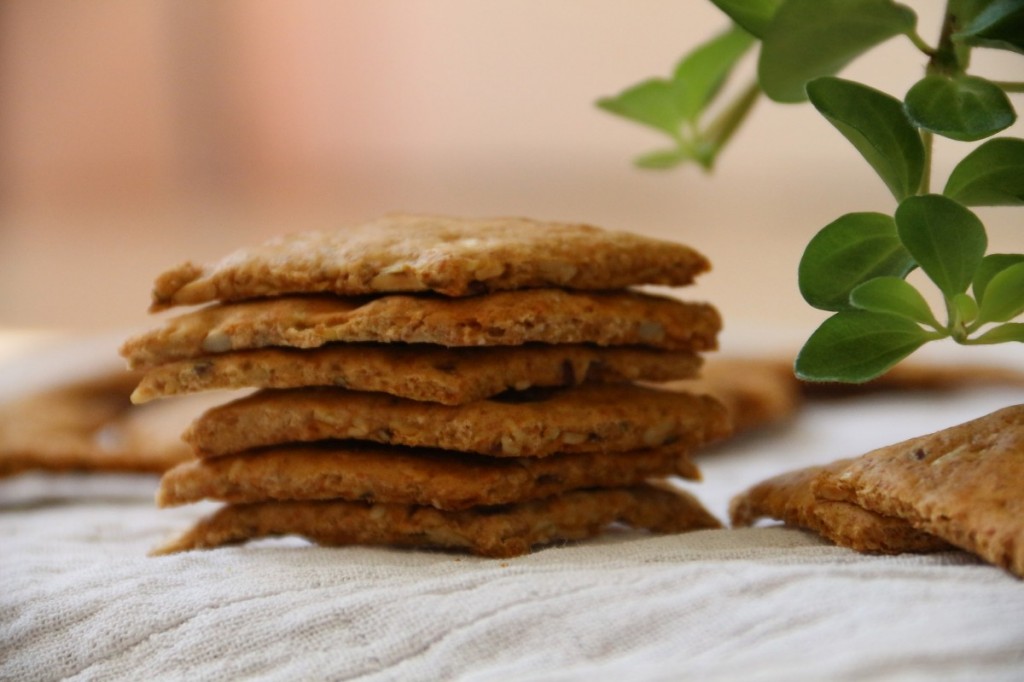 This crunchy seed crackers recipe includes four very powerful and healthy seeds: flax seeds, pumpkin seeds, sunflower seeds and sesame seeds. Among all else, these seeds are packed with healthy fats, fiber and iron. They are also very nutrient dense that a small serving will provide your little ones with more goodness than you think it does. So you should definitely start incorporate some seeds into your toddler's diet. You can begin with this seed crackers recipe.
You do not need to stick with only the seeds I am using in this recipe. You can play around with other seeds too. Just make sure you soak the seeds before using them. Soaking will help break them down, hence make it easier for our body to digest and absorb nutrients. It also helps bring out a more delicious buttery taste.
This is a great healthy snack option for your tots (and you). You can serve it at breakfast with some fruits and dipping sauce or in your tots' lunch box along side other stuff. They are also extremely convenient when you are on the go and in need for some healthy bites to munch on. These are delightful, crunchy with some nutty, buttery flavor and toddler-approved. You will find yourself eating one after another without wanting to stop. Yes, that's how delicious they are. Don't worry; I have seen it happen many times so I make sure this seed crackers recipe yields enough cracker for both you and your little one to enjoy for a few days. Have fun cooking!
Ingredients
• 2 ½ cups whole wheat flour
• 1 cup mixed seeds (I used sesame seeds, flax seeds, pumpkin seeds and sunflower seeds)
• 15 gr. Baking powder
• 1 tbsp. coconut oil
• 1 tbsp. grounded cinnamon
• 1 tsp. garlic powder
• 2 tbsp. coconut sugar
• 50ml water
Instructions
Soak the seeds in warm water for at least 3 hours.
When the seeds are done soaking, drain well. The seeds will be soft at this point and expand a bit in size. Transfer to your mixer (not blender). Add the rest of the ingredients except coconut oil. Pulse a few times so that the ingredients are mixed together. Slowly add the coconut oil to the mixture and keep pulsing. A dough ball will slowly form. If the mixture is too wet to hold together, add some whole wheat flour one tablespoon at a time until a dough ball forms. Alternatively, you can cover the wet dough by cling film and let it chill in your fridge for an hour before rolling it out. This process will firm the dough up and makes it easier to roll.
Preheat oven to 180 degrees C. Line a parchment paper on your baking rack.
Take the dough out of the mixer and divide into 3 portions. Roll each of the dough out as thin as possible (put it between 2 parchment papers to prevent sticking). With a sharp knife, score the rolled dough into your desired shapes. Transfer to oven and bake for 20 minutes. Turn crackers over and bake for 10 more minutes or until crunchy.

Make sure to keep your eyes on the oven especially the last 15 minutes because this burns really easily.

Depends on how thin you roll the dough out, it might take a few minutes less or more in the oven.

The longer you soak the seeds, the less water you will need to use for this recipe. For example, if you soak the seeds over night, I would say reduce the water in half.