I got my hands on some very delicious (read: "yuck" in my daughter dictionary) organic purple cabbage yesterday. I love its pretty deep purple color and its crunchy texture but I could not get Angela to agree *sigh*. She hates all things dark in color (!), be it blueberry or beetroot or purple potato. It does not matter how great they taste, if they have a bit of black/brown/purple hue then it means they taste nasty and as a matter of fact they won't ever make it to her plate. And the only way I could make her eat those highly nutrient-dense vegetables is to mix them up with some other vibrant food that she loves like these veggie muffins here and these veggie rice fritters.
I love fritters in general. It is a great way to incorporate more vegetables into our diet (especially the little one who is more on the finicky side when it comes down to veggies). Plus you can pretty much throw whatever veggies you have on hands in there and they still taste great! I discovered the amazing taste of these crunchy veggie rice fritters by accident. We had a bit of left-over rice from last night meal so I went a bit experimental by mixing it up in my veggie fritter batter. Guess what? It works wonder! The rice adds a bit of a crunchy texture to these already amazing veggie fritters. You should give it a try too 😉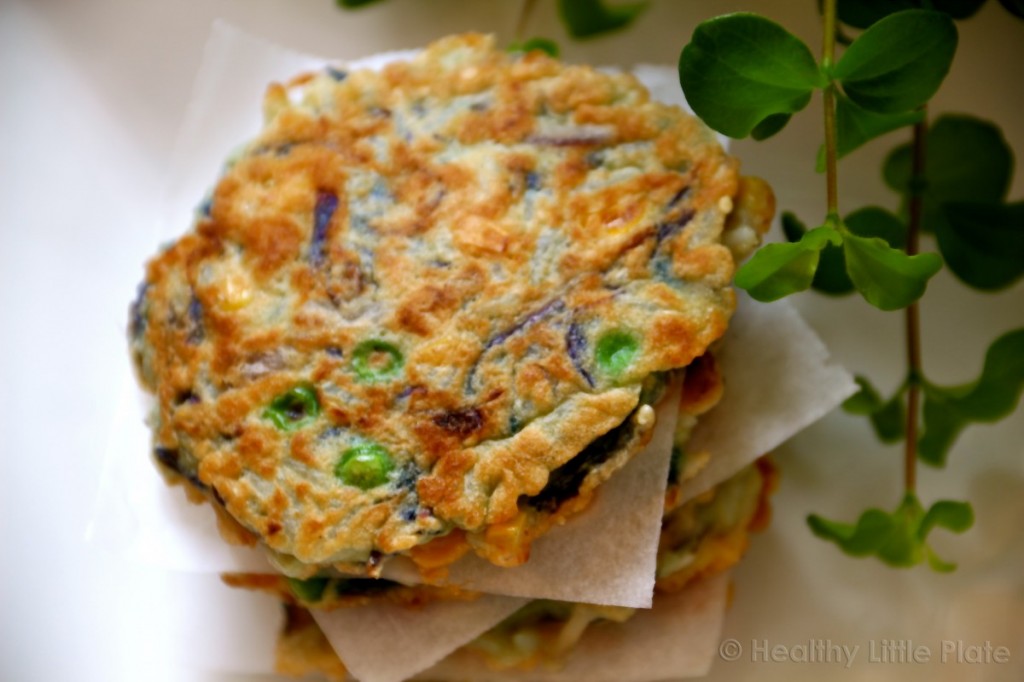 Crunchy Veggie Rice Fritters
Ingredients
• 1 purple onion, quartered and thinly sliced
• 1/3 cup grated purple cabbage
• 1/3 cup mixed sweet corn kernels and sweet peas
• ¼ cup left-over cooked rice (optional)
• 1/3 cup self-raising flour
• 3 tbsp. breadcrumbs
• 2 eggs, lightly beaten
• 20ml water
• Salt and pepper to taste
• Coconut oil to fry
Instructions
In a mixing bowl, mix the water with flour then add the beaten eggs and mix well until a wet batter is formed.
Add the breadcrumbs and the rest of the ingredients and give it some thorough stir. Make sure that the veggies are well coated by the batter. Season with salt and pepper.
Grease your skillet with some coconut oil (or any other vegetable oil that you prefer), wait until the oil is heated up, scoop a spoon-full of the mixed veggie batter onto the skillet, do about 3-4 different fritters at a time (depends on how big your skillet is). Let it cook on medium heat for about 2 minutes, flip the fritters over and press them down with the back of a spatula to flatten (this will help achieving the crunchy texture on the outside of the fritters). Cook further for another 2 minutes or until golden brown.
Serve warm with a dipping sauce of your choice.