Green pancakes are my favorite when we have some leftover mashed potato from previous meal that I don't want to discard. These are super quick to prepare and they taste great. Plus with such little effort you still maintain a balanced meal for your little ones. The powerful green vegetable – spinach – is packed with vitamins, antioxidants and mineral, which will benefit your toddlers in many ways. It is not for no reason that Popeye turns into a super human after eating a spinach can ;).  Oh while you are at it, why not call them Popeye pancakes when you serve them to your little boys (bulky muscular image is not exactly what a little girl aspired to become so I do not recommend you do this if you have a female toddler ;).
If you are not in a rush, you can even let your toddlers help you mix the ingredients together. It will keep them busy for a few minutes when you clean up the kitchen plus it will get them excited to taste the green pancakes too. Since the recipe has raw egg, make sure you do not leave your toddlers unattended if you ask them to mix the ingredients. They might have a bite or lick the mixing spoon, you never know.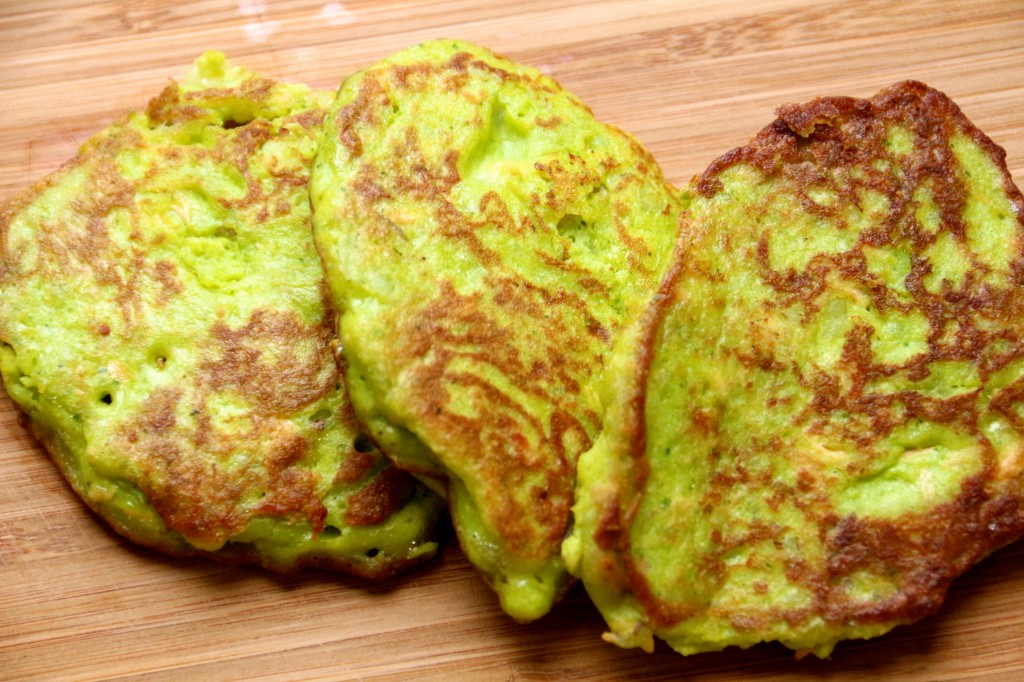 Ingredients
Instructions
In a bowl, put the cream cheese and spinach together and blend well until smooth. Add the rest of the ingredients and mix well so that everything is evenly distributed. (You can use the leftover mixture from stuffed mushroom recipe)
Heat up your fried pan and add a teaspoon of olive oil. Scoop the mixture in step 1 onto the pan and press down a bit to form a flat pancake shape. Fry for about 2 minutes or until golden brown and turn the pancake over. Cook the other side for another 2 minutes or until golden brown. Serve with raw honey, chia jam or 0% fat Greek yoghurt.