Green tea is probably (almost) the last thing you think of putting into your toddler foods. Let me tell you, I was the same too until I gave Angela a bite of my green tea pancakes. She just loved the taste and texture of these pancakes so much that she wanted another bite and another bite.
The taste of green tea powder changes depending on its quality so make sure you have your hands on a good quality one. I got my organic green tea powder as a gift from a friend who travelled to Japan a few months ago. It tastes way better than the one I bought here in the Netherlands. So I guess place of origin matters J.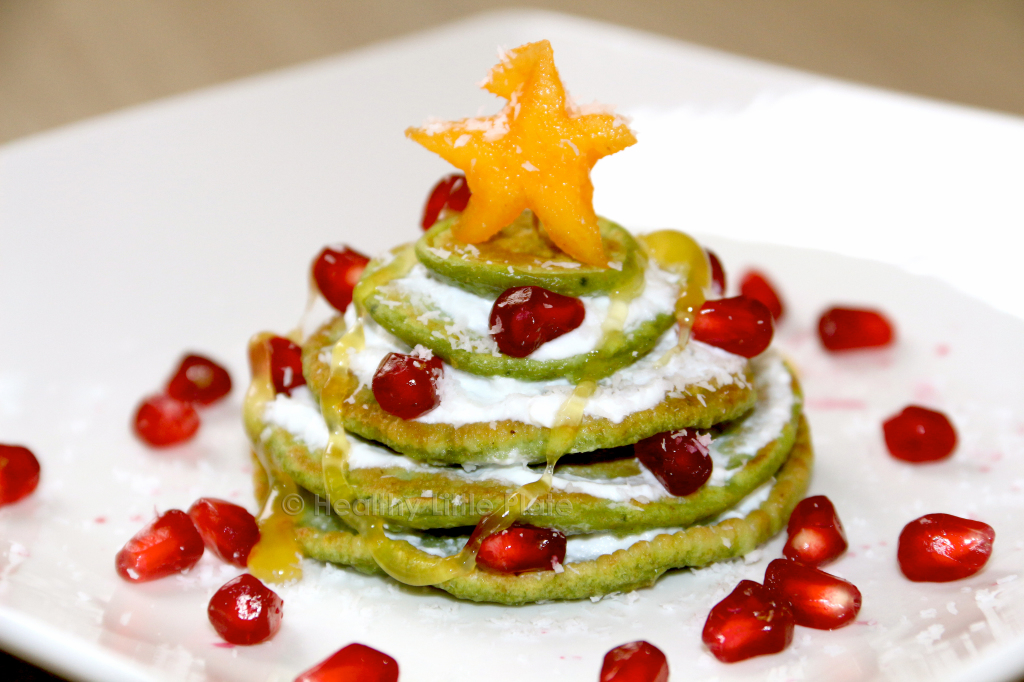 Back to these green tea pancakes. These pancakes only contain a very small amount of green tea powder (1 ½ tsp for 10 pancakes – Angela eats about 4 of them so she consumed about ¾ tsp green tea powder in total), so no worries about the caffeine intake. Though I would not recommend giving these green tea pancakes to babies and young toddlers (< 2 years old). I also do not recommend making these daily for your toddler either regardless their age. Having said that, these pancakes are great for special occasion breakfasts especially Christmas. You can layer it to form a Christmas tree (see photos) and watch your toddler jump in excitement when you serve them these.
Happy holiday season!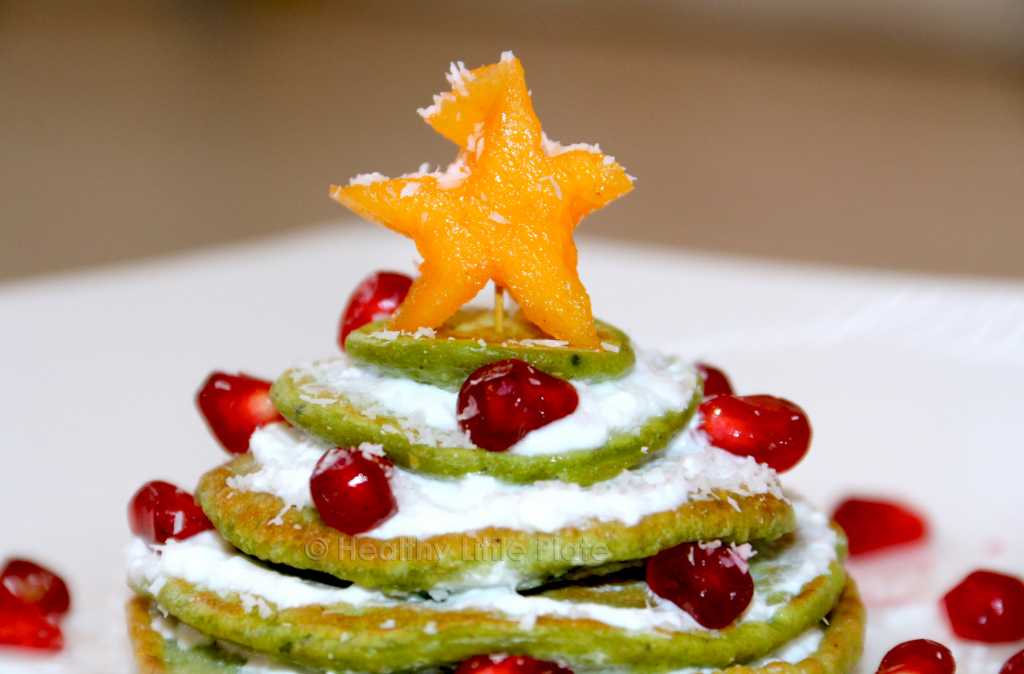 Ingredients
• ½ cup whole wheat flour
• ½ cup self-raising flour
• 1 grassed-fed egg
• 1 ½ tsp green tea powder
• 200ml milk of choice (I used almond milk)
• ½ tsp vanilla extract
• A small pinch of salt
• Coconut oil to fry

Toppings:

• Chilled coconut cream
• Honey or Maple syrup
• Desicated coconut
• Fresh fruits of choice
Instructions
In a mixing bowl, sift both types of flour. Add the green tea powder and and salt, mix well until combined.
In another bowl, mix egg, milk and vanilla extract together.
Slowly add the wet ingredient to the dry one and stir to combine. Only mix until everything is just incorporated (do not overmix unless you want chewy and dense pancakes!)
Scoop a tablespoon full of the pancake mixture onto a heated greased skillet. You can cook a few at the same time depending on the size of your skillet. Cook for a minute each side. You can make different size pancakes to make a pancake christmas tree (see photos).
Top a pancake with chilled coconut cream before adding another one one top to create layers. Sprinkle desicated coconut over, add fresh fruits and honey then serve.
If you make these, tag me in @healthylittleplace on Instagram for a feature ;).