Chocolate Mousse? And healthy? You probably think "nahhhh, no way". But this Raw Chocolate Mousse is indeed very (I repeat VERY) healthy for your toddlers (or you & the rest of your family). This silky smooth Raw Chocolate Mousse contains no butter, no sugar, no creams or any of those "not so good for your body" ingredients, yet it tastes even better (yup, you read it right) than the traditional processed chocolate mousse. Who would not like to eat a bowl of chocolate mousse without being bloated afterwards or feeling guilty at all? Who would not want to give their tots a healthy and nutritious snack? Certainly not me. This shiny dark mousse will load your toddler up with vitamins K, E, B6, potassium, iron, fiber… you name it. How? You asked. Well here is how mamas, because this Raw Chocolate Mousse contains avocado, raw cacao powder, pomegranate and some tiny amount of other healthy accompanying ingredients (see ingredients below). Tons to gain and nothing to lose. So do yourself a favor and go make this tasty snack now ;).
*Note: this is HIGHLY addictive so you might want to double (or triple) the recipe and keep some in your fridge for later cravings ;).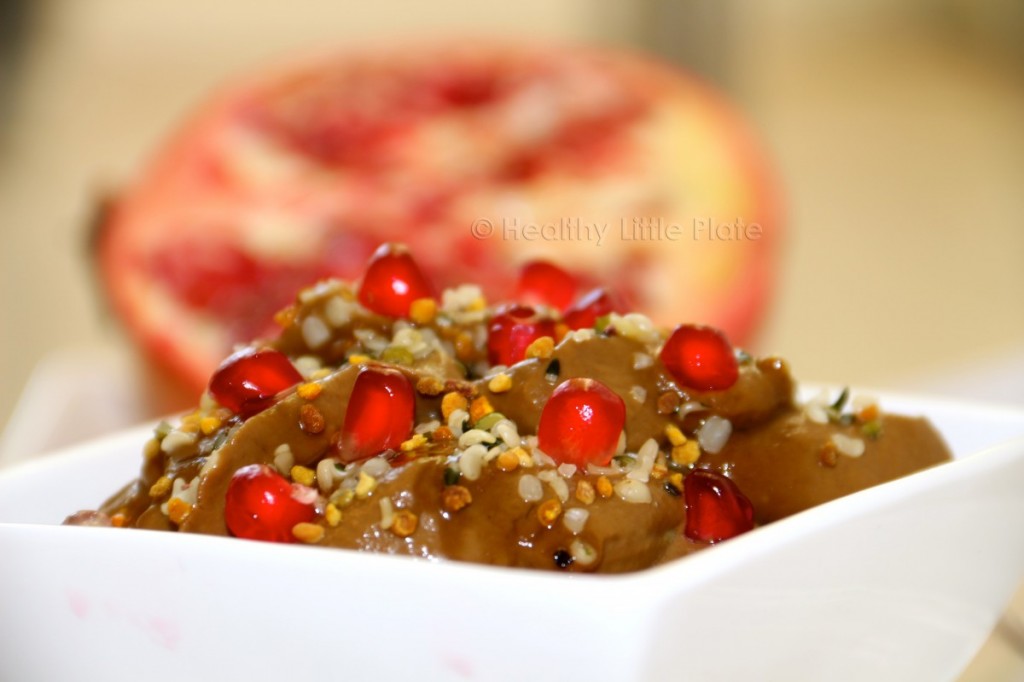 Ingredients:
1 big fully ripe avocado
1 1/2 tbsp. raw cacao powder
2 tbsp. raw honey or maple syrup
1 tbsp. coconut water
1 tsp. melted cocoa butter
pomegranate to serve (or any other fresh fruits that you like)
hemp seeds & bee pollen to serve (optional)
Method:
Cut avocado into chunks (skins removed of course) and whizz together with the melted cocoa butter in your blender on high until very silky smooth.
Add the rest of the ingredients (except for the pomegranate) and continue blending until you reach a velvety smooth texture. You might want to taste and add more honey / maple syrup if needed (I did not need to add any extra because my daughter has high bitterness tolerance but every kid is different so adjust it to your toddler's preference)
Scoop out the amount that you want to serve immediately and top with the prepared pomegranate. Let the rest chill in your fridge.