Like many other Asian you might have met, I have grown up eating countless dumplings in my life. Have I eaten a lot of pre-made store-bought dumplings, you asked? I am guilty as charged here. To be honest, before I was faced with Angela's disastrous eczema skin condition, I was not aware of how many harmful stuff I have consumed all day everyday. Many of which were in the readily made dumplings I always brought at my local oriental store. Once in a while I would make some homemade dumplings but without exception, those contain large amounts of salt, oil and other seasonings. Knowing how bad those high sodium dumplings are, I would not feed them to my daughter now. It is not like they are poisonous; I just rather let her eat something healthier. As they said, "the food you eat can be your most powerful form of medicine or slowest form of poison" after all.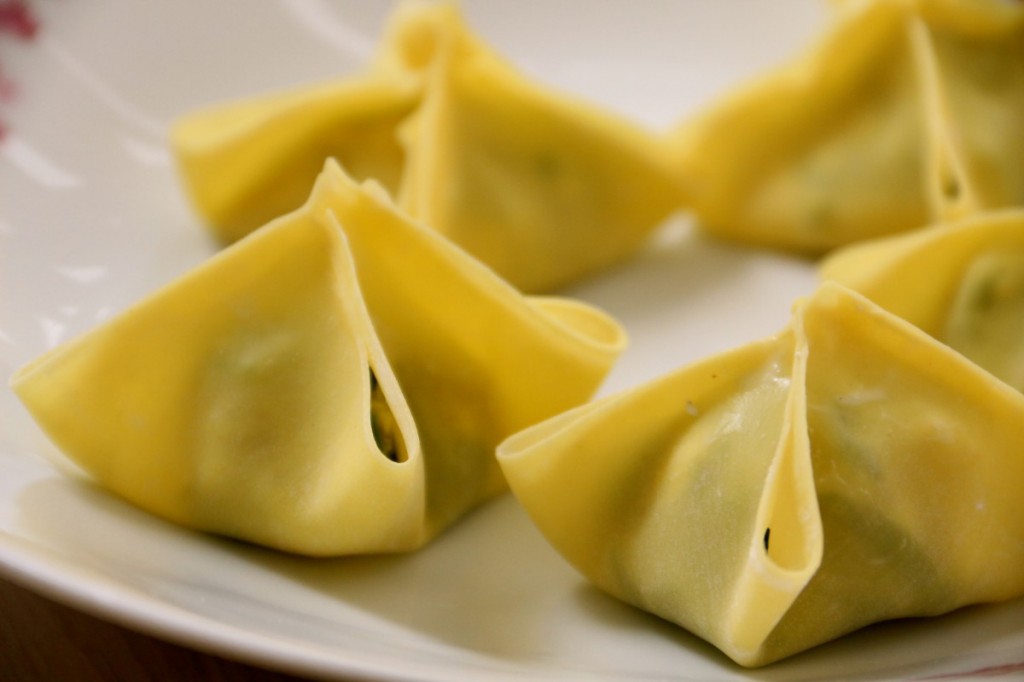 On my journey to experiment with different healthier dumpling versions, a great discover was surfaced: vegetable dumplings. You in fact do not have to include any meat in your homemade dumplings and still can end up with a very mouthwatering dumpling dish that your toddler will be excited to try. What vegetable to include is entirely up to you; but make sure to stick with those that have quick cooking time (or else your dumpling wrapper is cooked way before your filling and that will make the dumplings collapse). I suggest you use baby spinach leaves, radish leaves, mustard leaves, kale, sweet corn kernels, green beans, grated baby carrot, finely diced broccoli / cauliflower, watercress and the like. If you must use harder vegetables like cabbage or celery, finely dice them and sauté them for a few minutes before adding them to your filling. That will help shorter the steaming time later on. In the photo below, I used baby spinach leaves and mushroom for my dumplings and they turned out great. I did not even have to pulse them using my food processor, I just teared the spinach leaves and chopped the mushroom then mixed them up with mashed tofu. How convenient is that? Especially when you do not have time for some extra piled up utensils in your kitchen.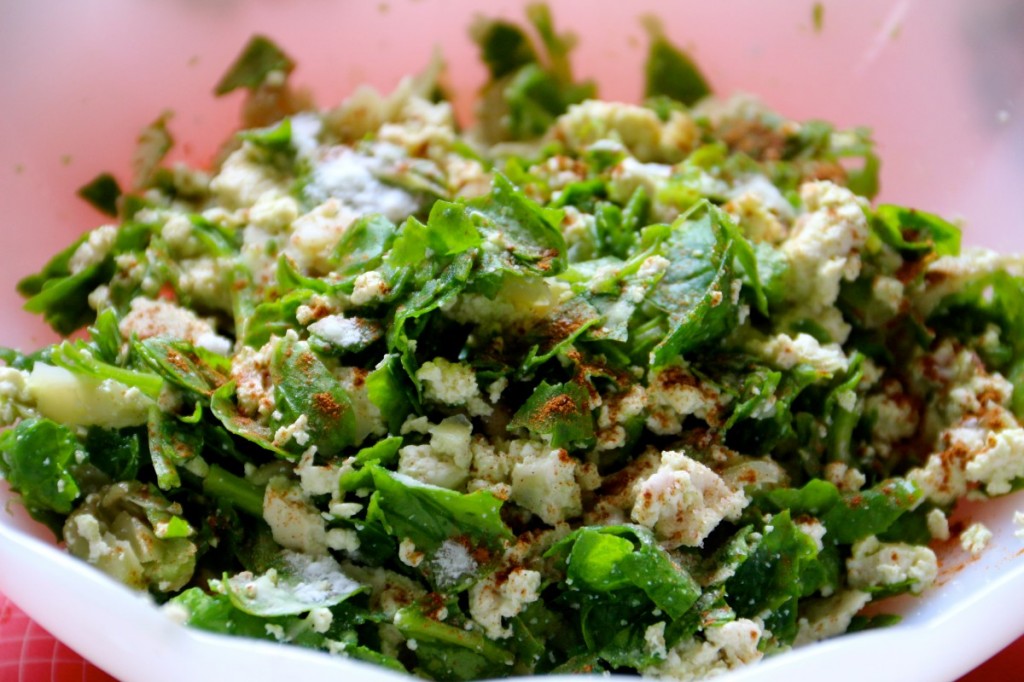 When you make homemade dumplings, it is entirely up to you to shape them the way you like. Half moon, ruffle top, or ravioli-styled, you name it. You do what is easiest for your hands or what is most pleasing to your eyes. You are in control of the shape, size and filling.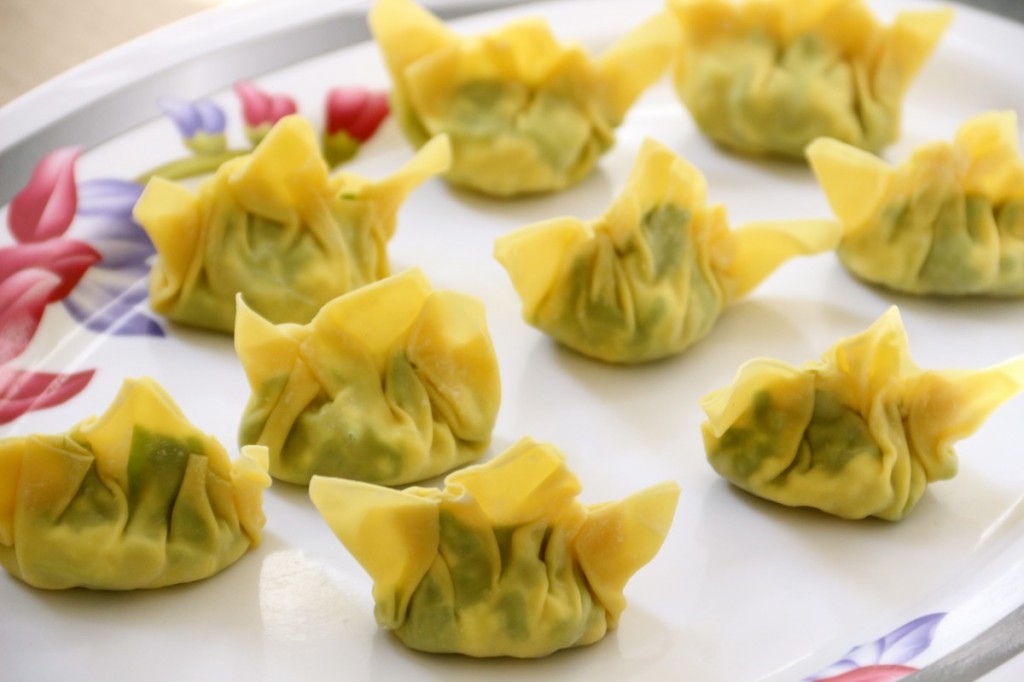 Steamed vegetarian dumplings & chicken dumplings
Ingredients
For chicken dumplings:

• 200 grams grounded chicken
• 1/2 package of frozen dumpling wrapper - 25 sheets (I used the square wrapper)
• A few ears of dried shiitake mushroom
• ½ a thumb-size piece of young ginger
• ½ small purple onion
• 1 tsp. sesame oil
• 1 tsp. garlic powder
• Salt and pepper to taste (I use pink Himalayan salt)
• Corn starch to dust
• A lettuce leaf to steam

For vegetarian dumplings:

• ½ pack frozen dumpling wrapper (25 sheets)
• 1 cup of cubed medium-firm tofu
• A heaped handful of young spinach leaves
• A few ears of mushroom of your choice (I used blewit mushroom)
• 2 small spring onions
• 2 cloves garlic
• 1 tbsp. cinnamon powder
• 1 tbsp. potato / tapioca starch
• Salt and pepper to taste (I used a pinch of pink Himalayan salt)
• A big lettuce to line your steamer
Instructions
Method for chicken dumplings:

Take the dumpling wrapper from freezer and thaw for an hour before using.
Submerge the shiitake mushroom in hot water and let stand for about 10 minutes until soften. Take out of water and wash thoroughly.
Chop mushroom, ginger, and onion finely.
In a big mixing bowl, add all ingredients and mix well until everything is thoroughly incorporated.
On a clean working surface, create your assembling line. First is a small bowl of water to seal the wrappers' edges, second is your chicken filling mixture, last is a clean plate with some cornstarch to place the dumplings on. Lay 3 pieces of wrappers out at once, spoon a small spoon of chicken filling onto the middle each of the wrapper, wet all around the outside edges of the wrappers, bring 2 opposite sides of the wrappers up over the filling and press together to seal. Create a bit of ruffle looking edges while sealing for better looking dumplings. If they do not seal, wet the wrappers' edges a bit more with water.
Place the dumplings on a clean plate and keep wrapping until all filling is gone.
To steam, place a lettuce leave at the bottom of your steamer before transferring the dumplings on top (to prevent the dumplings from sticking to the bottom of the steamer). Steam on high heat for 15 minutes. Serve with low-sodium soy sauce.

Method for vegetarian dumplings:

Take the wrapper out of freezer an hour before you start.
Chop spinach, mushroom, onion, garlic finely and add tofu and mash together to create a sticky tofu filling. Alternatively, you can put all those ingredients in your food processor and blitz until no big chunk is left. Add the rest of the ingredients and mix well until everything is evenly distributed.
Repeat from step 5 as in the chicken dumpling recipe.
Note: To freeze the dumplings, after wrapping them, put them on a tray and place in your freezer for 2 hours. Remove from the tray and place in a zip-lock bag, label and they are good like that in your freezer for a month.
Making these homemade dumplings with your toddler can mean an  hour long fun bonding session between you two. Let him scoop the filling on to the wrappers for you while you do the shaping. Or you can let  him mix the filling while you prepare the steamer. He will be more than happy to help and you will be surprised how many of them he will eat when they are done steaming. Oh while we are at it, these dumplings are good to consume right after steaming. But you also have an option to serve them as dumpling soup. Just warm up some soup stock (vegetable or meat is up to you), toss some dumplings in, season to taste and garnish with finely chop spring onion or coriander. Then you have a bowl of warm comfort food for yourself or your toddler.