Once in a while I would serve Angela some fried stuff to satisfy her craving and keep her from being bored with all the baked, steamed and grilled foods that she eats daily. When that happens, this homemade fish cake is often my go-to recipe. It is crunchy on the outside, soft on the inside and so flavorful. It definitely tastes way better than store-bought ones. One thing I love about this fish cake recipe is that you can make a family meal out of it just by adjusting the seasonings that goes in it. I normally make a big batch of this, separate a small portion for Angela and season the rest to our desired taste with whatever seasonings we feel like having at the time.
Another thing I love about this homemade fish cake recipe is that it freezes really well. Its taste does not change much even after a few weeks lying around in your freezer. Just make sure you thaw it well before frying so that it will be cooked through. It is also very versatile. You do not have to fry it like I did. You can just pop it in your oven or on to your grill for a couple of minutes (with a bit of olive oil to keep it from sticking) and it will still be as delicious. I serve this with a mixed salad and a creamy tomato dipping sauce (recipe will be up in a few days). Beware, this homemade fish cake is very addictive and you will find yourself (and your toddler) crave for it more often that you thought you would. So you might want to make a big (I mean big) batch of it and freeze some for another day so you will always have it ready in a matter of minutes. Happy cooking.
*note: the preparing time says 1 hour + 10 minutes, this includes chill time, the actual preparation takes only 10 minutes.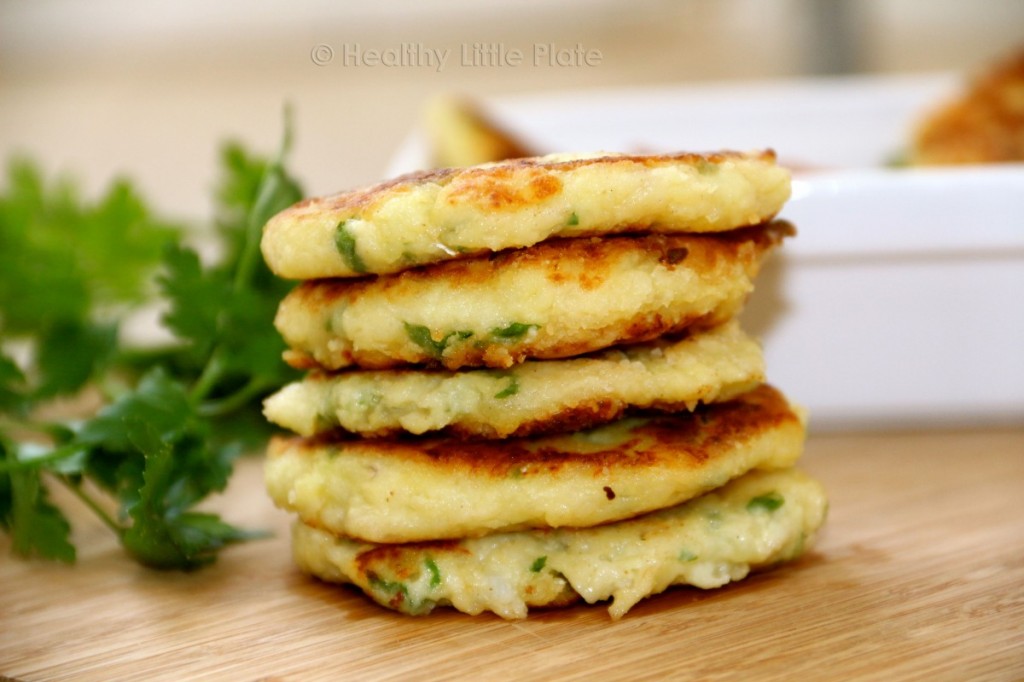 Ingredients
• 2 large floury potatoes
• 100 gr. skinless and boneless Cod fish or salmon fillet (I used Atlantic Cod)
• 1 free-range egg yolk
• A small handful of chopped fresh parsley
• 3 tbsp. plain flour to add in the cake + extra flour to dust your hands and plates
• Salt and pepper to taste
• Olive oil
Instructions
Wash, peel and chop potatoes into chunks. Steam for 20 minutes or until almost cooked through. At this point put fish into the same steamer. Keep steaming until both fish and potatoes are cooked. Remove from steamer.
Set the fish apart. Pour the potatoes onto a colander and let it dry up for about 2 minutes. Mash the potatoes thoroughly and let it cool down. Once the potatoes are cool, flake the fish into it with 3 tablespoons of flour and an egg yolk. Add the chopped parsley and salt and pepper to taste (I used a tiny pinch of salt to satisfy Angela's craving). Mash and mix everything up until all ingredients are well incorporated.
Sprinkle a bit of flour onto a clean plate. Also dust your hands with some flour to prevent sticking, scoop a spoon-full of the fish potato mixture onto your hands and form a circle shape. Keep dusting the cakes lightly as you go. How many cakes you get depends on how big you make them. Keep doing with the rest of the mixture. Put all the cakes on the plate and cover with cling film. Let them chill in your fridge for an hour.
When the cake is chilled, heat up a frying pan with a tablespoon of olive oil. Shallow fry the cakes in the oil for about 3 minutes each side or until golden brown (you might have to add some more oil depends on how many cakes you want to fry). Serve immediately with any sauce of your choice.

If you wish to freeze some, after you are done shaping them in step 3, cover each cake with cling film and pop them into a zip-lock bag and put them in your freezer. They are good for a month.