I came across a homemade ketchup recipe by Jamie Oliver the other day and I was so intrigued to try it. My oh my, it tasted amazing! I thought to myself, only if I could make a healthier and simpler version of it for Angela. The thing is, Angela has never ever tried "ketchup" before, nor is she aware of its existence. And I would like to keep it that way for some reasons :). So instead of trying to make homemade ketchup, I decided to develop a versatile, all purpose homemade tomato sauce. This homemade tomato sauce can be used as a dipping sauce for breads, crackers, vegetable sticks or as a sauce base for pasta / spaghetti, meat balls… you name it. I tried a couple of different combinations and this is the one that works for me. It is aromatic, tastes wonderful and quite creamy in texture, just how we like it around here. This homemade tomato sauce definitely beats those store-bought one by miles (I have not bought any processed/canned tomato sauce for years but the last time I bought it, it was not that tasty. Totally did not have my vote). Many people would like to remove tomato skin before chopping it up. I've tried both with and without skin on, it does not make any difference so I would definitely recommend you to just leave the skin on, it will save you a lot of time (unless you have a very independent toddler who would leave you alone for an hour in your kitchen without trying his best to ruin whatever you are cooking :), unfortunately I do not have such a toddler here so I'd stick with the time saving method ;).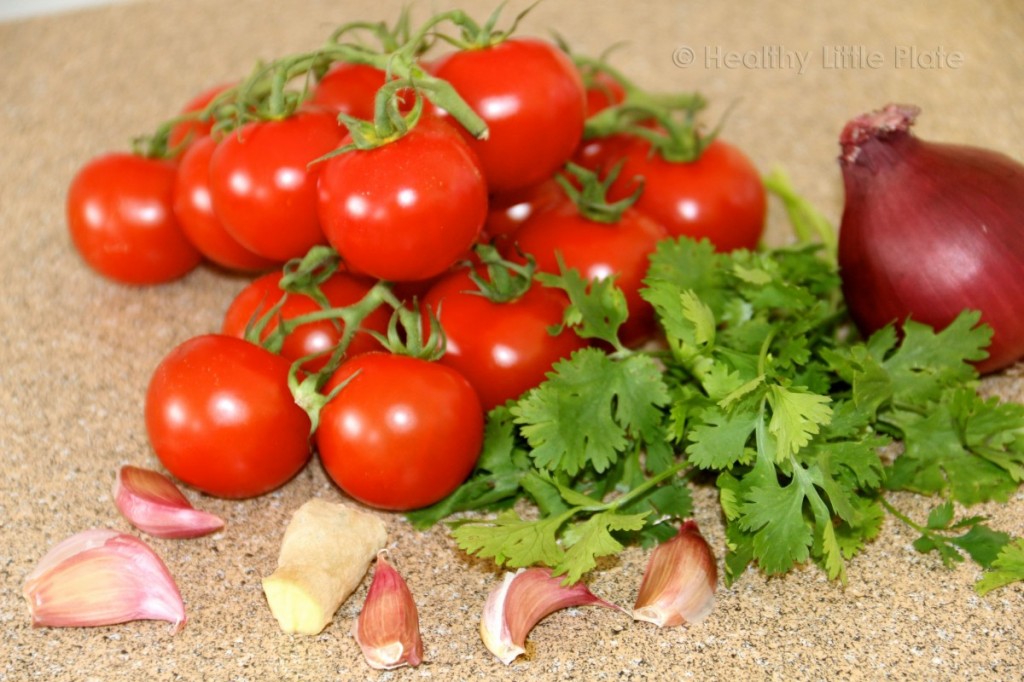 So what exactly are in this homemade tomato sauce recipe? Nothing fancy, nothing strange, just 5 fresh ingredients as you can see above and some coconut sugar, apple cider vinegar and potato meal. Yup, that is it! Do not underestimate the outcome of simplicity. I repeat, do not underestimate it. The taste of this homemade tomato sauce will blow your toddler's socks off (at least it did to mine) and you will be seeing your little one eat a lot more than his usual amount. You can use this sauce as a dipping sauce for these chicken tots or these asparagus sticks.
Ingredients
• 350 gr tomatoes (cherry or plum)
• 4 - 5 cloves garlic
• 1 thump-sized piece fresh ginger
• A small handful of coriander leaves (can be replaced with basil)
• 1 small purple onion
• 2 tsp. coconut sugar
• 1 tsp. apple cider
• 1 tbsp. potato meal
• 20ml water
• A pinch of pink salt
• Olive oil
Instructions
Chop tomatoes in to small chunks, you can keep or discard the seeds as you wish (the sauce will be a bit thicker if you don't use the seeds).
Peel and chop onion, ginger and garlic into small chunks. Wash and chop coriander leaves roughly.
Heat up a saucepan with olive oil on medium heat; add garlic, ginger and onion. Saute for 5 minutes. Keep stirring to prevent burning. Add chopped tomatoes. Saute for about 10 minutes more or until the tomatoes are soft and tender. During this process you have to stir frequently. Add 20ml water and let the sauce simmer for 5 more minutes on low heat.
Transfer the sauce to your blender; add chopped coriander and blend on high until smooth (I blend for about 2 minutes).
Put the sauce back into saucepan and add sugar, apple cider and a pinch of salt (I used pink Himalayan salt). Simmer on low heat for 2 minutes. Sprinkle potato meal onto the sauce and keep stirring until the potato meal is totally dissolved. Turn the heat off and serve immediately on top of pasta / spaghetti or as a dipping sauce for bread or vegetables.

This recipe is for toddler so I used only a very small amount of salt and sugar. If you want to make this for adults, at the last step in the recipe, season the sauce to your desired taste. It will taste great with some grounded pepper too.

This keeps for a month in a sealed sterilized jar.