You know Halloween is approaching when you start seeing a lot of pumpkins on farmer markets & supermarkets. It starts to look very orange everywhere you go all of a sudden. We pretty much have access to pumpkin all year round here in the Netherlands but they are especially delicious and cheap during autumn months. That is why I cook a lot with pumpkin during the period of end August – end November :). One of my very first pumpkin recipes I want to share with you is this pumpkin buns recipe. These are very fun for little folks to eat and very healthy at the same time too. Plus you can easily make these pumpkin buns vegan by replacing the chicken filling with a vegetable filling, what vegetables to use is entirely up to you. Do not let the long recipe scare you, I tried to write down every detail so that it is easier for you to follow. Plus it does not take 1 hour and 30 minutes to make, in fact it takes about 30 minutes to make. The 1 hour is resting time for the dough. So what are you waiting for? Go make some of these pumpkin buns for your tots & family ;). Happy steaming!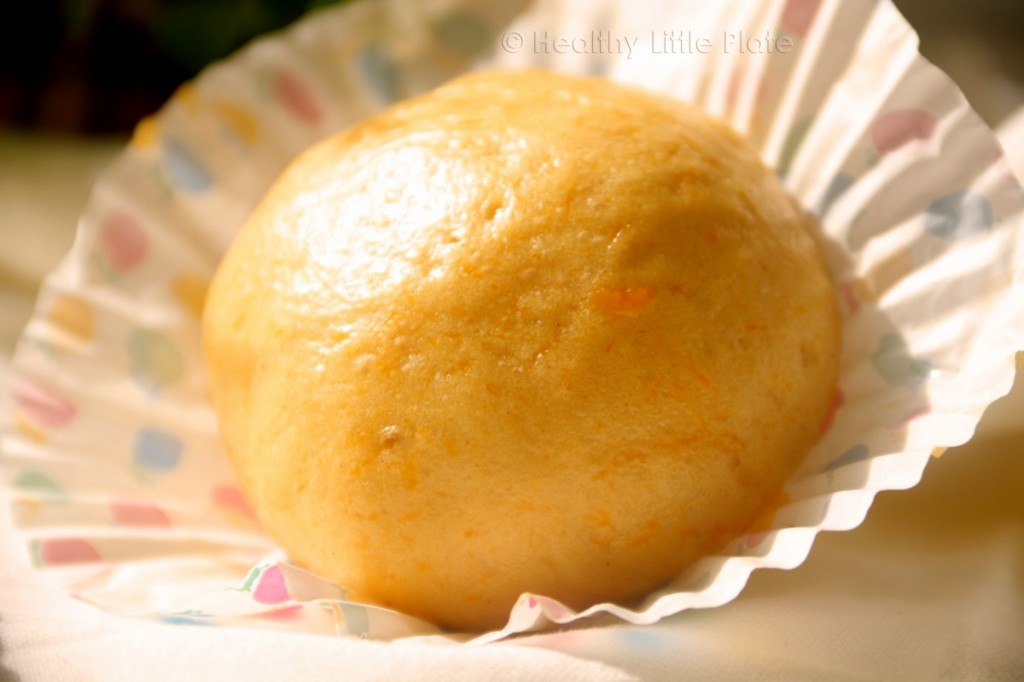 Pumpkin Buns (Easily Vegan)
Ingredients
Ingredients for the bun skin:
• 200 grams pumpkin (about 1 cup mashed)
• 400 grams all-purpose flour
• 3 tsps. Instant yeast (I used 2/3 small package)
• 50ml water
• A pinch of cinnamon
Ingredients for the filling:
• 150 grams grounded chicken
• 1/3 cups sweet corn
• 1/3 cups sweet peas
• 1 tsp corn starch or potato starch
• 1 tsp. garlic powder
• Salt and pepper to taste
Instructions
Prepare the bun skin:

Remove the pumpkin skin and discard. Chop pumpkin into chunks and steam on high for 10 minutes (from the point the water starts boiling). When the pumpkin is cooked through, transfer to your blender and give a quick blend to turn it into puree (make sure there are no chunks or strings left). Let it cool down.
Prepare the water & make sure it is lukewarm (about 36 degree C) and dissolve. Add the yeast and mix well. Set aside for about 5 minutes or until you see some small bubbles on the surface.
In a large mixing bowl, add the flour and cinnamon and give it a quick mix with your hands. Add the rest of the ingredients for the buns (make sure the pumpkin is cooled down when you add it) and knead the flour into smooth dough. It will be a bit sticky at the beginning, but as you keep kneading it will become smooth. Cover the bowl with cheesecloth or a towel and put it somewhere warm (next to your stove or on your kitchen counter are ok) for an hour.

Prepare the filling:

In a frying pan, sauté the chicken with garlic powder for about 5 minutes on high. Keep stirring so it does not stick to the pan. Add the rest of the filling ingredients and sauté for another 5 minutes. Season with salt and pepper to taste. Drain any water in the pan and let it cool down.

Shaping buns:

When the dough is double in size (about 45 minutes), take it out, punch it down and knead on floured surface for about 2 minutes. Divide the dough into small balls (about 20 grams each). Put all the balls onto a tray (sprinkled with some flour) and cover with cheesecloth to prevent drying. Only take a ball out each time to work with.
Before you start working with the dough, prepare your steamer ready to steam (I did not have a large enough steamer so I had to steam 3 times).
Dust your hands / rolling pin and the surface with some flour.Take a dough ball out and flatten it with your palm or roll it out with a rolling pin (do not roll it too thin), coop a spoon full of the filling mixture onto the flat dough and pinch the edges of the dough together to cover the filling. Make sure there is no hole so the filling does not spill out while being steamed. Roll it around on your palm to get the round shape, put on a round piece of parchment paper or cupcake paper. Repeat with the rest of the dough. When you have about 4 buns, start steaming them on medium heat for 8 minutes while you continue with the rest of the dough. Serve warm.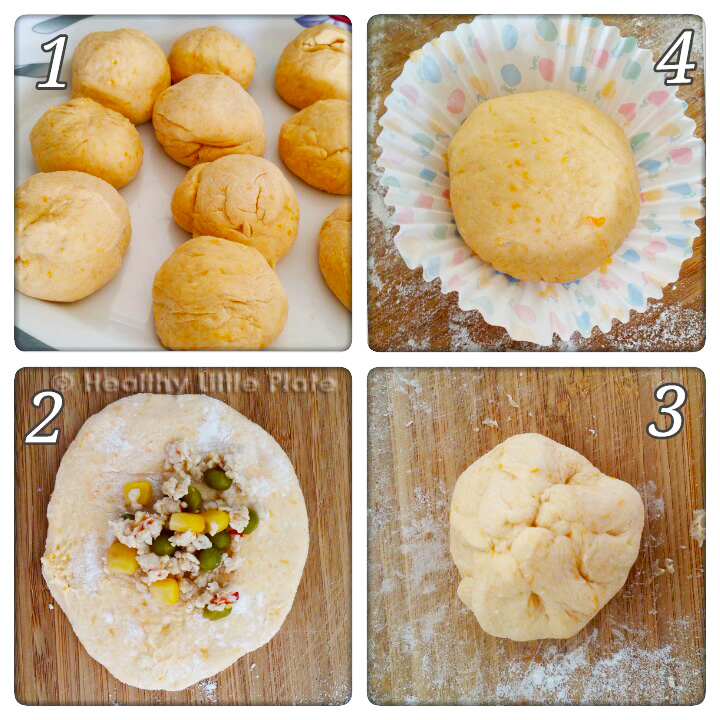 * To get from step 3 to step 4: turn the bun up side down 😉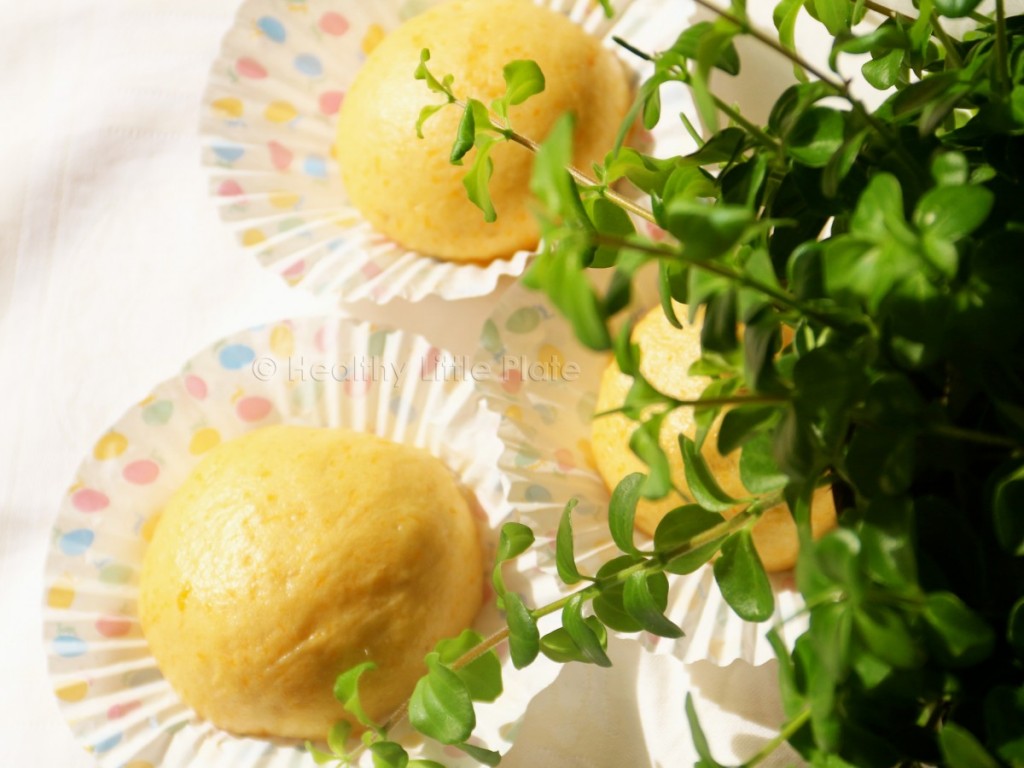 Notes:
When you are done filling and shaping one bun, put it back on the tray & cover with the cheesecloth to prevent it from drying out.
You should not wait until you finish working with the dough then start steaming because it might take too long and the dough will raise too much.
If you wish to freeze some, after steaming, wait until they cool down, cover each bun with a piece of cling film and pop them in your freezer. When you want to serve, just take them out (no need to thaw) and re-steam on high for 3-5 minutes. (You can also pop them in your microwave for 2 minutes though I do not recommend this method for health reasons).