Porridge was on Angela's weekly menu when she was a baby and she thoroughly loved it
. It is one of the dishes that you can throw almost any kind of vegetables (or protein) in and still end up with a pretty decent, healthy and light meal for your baby / toddler. And if you eat rice a lot like we do and often have some leftover rice that you do not know what you are going to do with, then this pumpkin porridge will definitely help you reduce some food waste.
This pumpkin porridge recipe is for toddler but it is easily modified to become a baby food recipe. In stead of mashing the steamed pumpkin and add to the soup, you can add pumpkin chunks directly to the soup, cook it through and give the whole thing a quick blend until your desired consistency. And you can skip the salt and pepper all together if it is for a baby. Voila. A Vitamin-A-rich flavorful and vibrant soup is ready for your little one to enjoy.
Beware that the soup tends to be really hot off the pan so make sure you check its temperature before giving it to your little one (especially one that would like to self-feed) to avoid burn.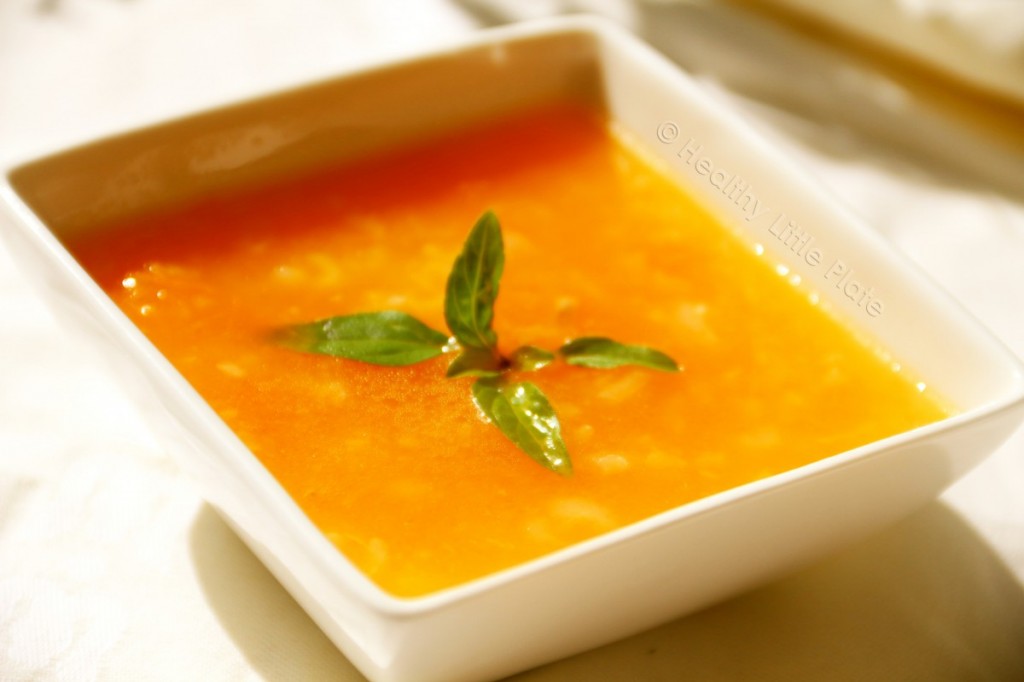 Ingredients
• 3 cups soup stock (vegetable or meat)
• ½ cup of cooked rice (I used long grain white rice)
• 150 gram fresh pumpkin
• 1 tsp. very finely chopped ginger
• Spring onion to garnish (optional)
• Salt and pepper to taste
Instructions
In a saucepan, heat up the soup stock to boiling point then add the cooked rice and ginger. Turn the heat down to low-medium and let the soup cook for about 15 minutes. Remember to stir often so the rice does not stick at the bottom of your pan. If the rice seems to stick at the bottom of your pan, turn the heat down a bit more and keep stirring.
Remove pumpkin skin and chop into small chunks. Steam pumpkin chunks on high for 5 minutes (from boiling point). When the pumpkin is cooked through, transfer to a bowl and mash it well. Set a side.
When you see that the rice starts swelling up a bit (about 15 minutes after adding it to the pan) add the mashed pumpkin and give it a thorough stir so that everything is evenly blended. Season with salt and pepper. Garnish with spring onion. Serve warm.