A couple of days ago was mid-autumn festival – harvest festival celebrated by many Asian people. It is held on the 15th day of the 8th month in Lunar Calendar. Mooncake – round pastry filled with sweet or salty fillings – is one of many foods typically enjoyed in this special occasion. As making mooncake require quite a few kitchen equipments that I did not have at hands, I decided to make these steamed buns as a tribute to autumn as well as this special festival.
Traditional steamed buns in Viet Nam (where I am originally from) contain meat fillings and typically are plain white. I want to put in some extra effort to make the boring plain white buns more appealing so I opted for rose-formed buns instead and as a courtesy to my vegan & vegetarian readers, I decided to skip the meat filling. These beautifully purple rose buns are a great option for parties, family gathering or if you want something fancy looking for dinner. You can serve them as a replacement to rice and bread together with some meat or vegetable stews, curry or grilled dishes. They also make a great healthy snacking option on their own.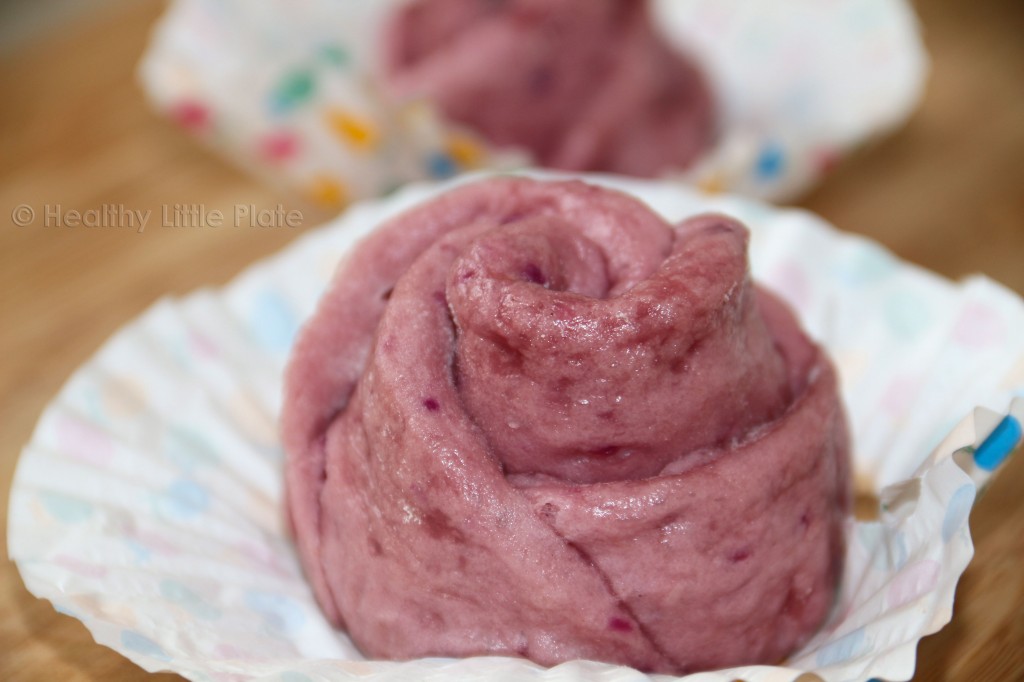 *the recipe says it takes 1 hour and 30 minutes to prepare the dough but it actually takes about 30 minutes since the 1 hour is the time required for the dough to raise.
Purple Sweet Potato Steamed Buns
Ingredients
• 1 medium purple sweet potato (about 1 cup mashed)
• 300 grams all-purpose flour
• 3 tsps. Instant yeast (I used 2/3 small package)
• 50ml water
• 100ml milk
• 1 tbsp. brown coconut sugar
• A pinch of cinnamon
Some flour to dust
Instructions
Wash and put the potato in a saucepan and fill with just enough water to cover the potato. Boil on high until the potato is tender (a skewer can pierce through without much resistance). It takes about 10 minutes from the point the water starts boiling. Drain water and let the potato dry and cool enough to handle. Take your potato masher and mash it down finely, remove any chunks or clumps. Set aside.
Prepare the water & make sure it is lukewarm (about 36 degree C) and dissolve the sugar in. Add the yeast and mix well. Set aside for about 5 minutes or until you see some small bubbles on the surface.
In a large mixing bowl, add the flour and cinnamon and give it a quick mix with your hands. Add the rest of the ingredients and knead the flour into smooth dough. It will be a bit sticky at the beginning, but as you keep kneading it will become smooth. Cover the bowl with cheesecloth or a towel and put it somewhere warm (next to your stove or on your kitchen counter are ok) for an hour.
When the dough is double in size (about 45 minutes – an hour), take it out, punch it down and knead on floured surface for about 2 minutes. After this step you can divide the dough into 40-50 gram dough ball and shape it anyway you wish.

To make dough roses:

Divide the kneaded dough into small balls of 10-15gr each. Flatten each dough ball down with the palm of your hands (alternatively, you can roll them out too).
Half-stack 5 flattened dough on top of each other and start rolling them from the bottom piece.
Cut the rolled dough in half with a chopstick or skewer and you get 2 rose-form-dough. Sit them up right in a parchment muffin cups
Steam on high for 12 minutes.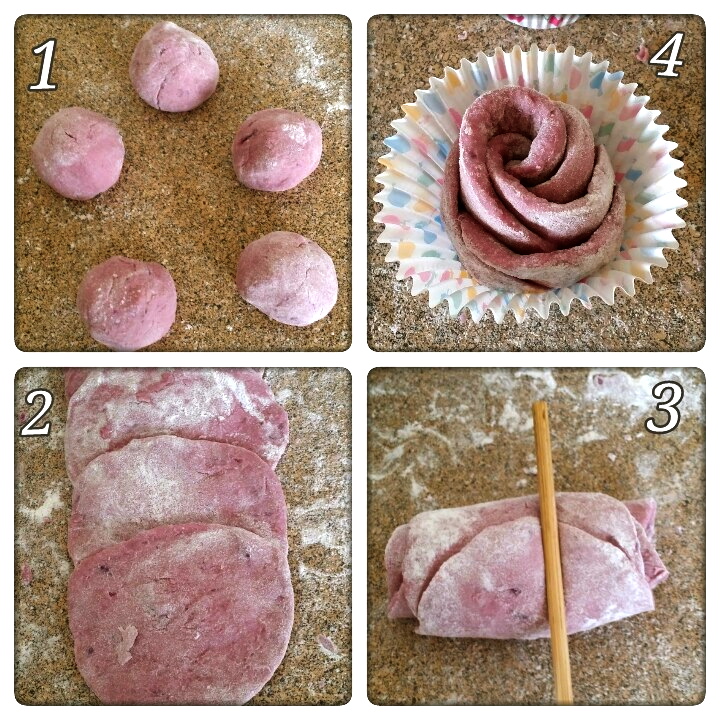 Note: If you would like to freeze some, once they are done being steamed, take them out and let them cool down for 30 minutes. After that cover each rose with cling film and put them in a zip-lock bag and store in your freezer. They last for 3 months that way. When you want to eat some just take them out and steam for 15 minutes on high (or microwave for 1 minute 30 seconds per rose, though I do not recommend using microwave for health reasons).