Everyone in my family and extended family loves sushi (especially my hubby, he is a sucker for all types of sushi that exist!). Thus this is the type of dish that gets a lot of request around here. Since I have not given Angela any raw fish yet (except for the freshly caught so-called famous Dutch herring) and she is not really a fan of vegetarian sushi, I normally make her some Onigiri or Japanese rice balls. The traditional Onigiri is tightly packed sushi rice with some salty seafood or vegetable filling in the middle. As that might look a bit plain (read: unappealing) for my toddler, I make my version of Origini: rainbow rice balls.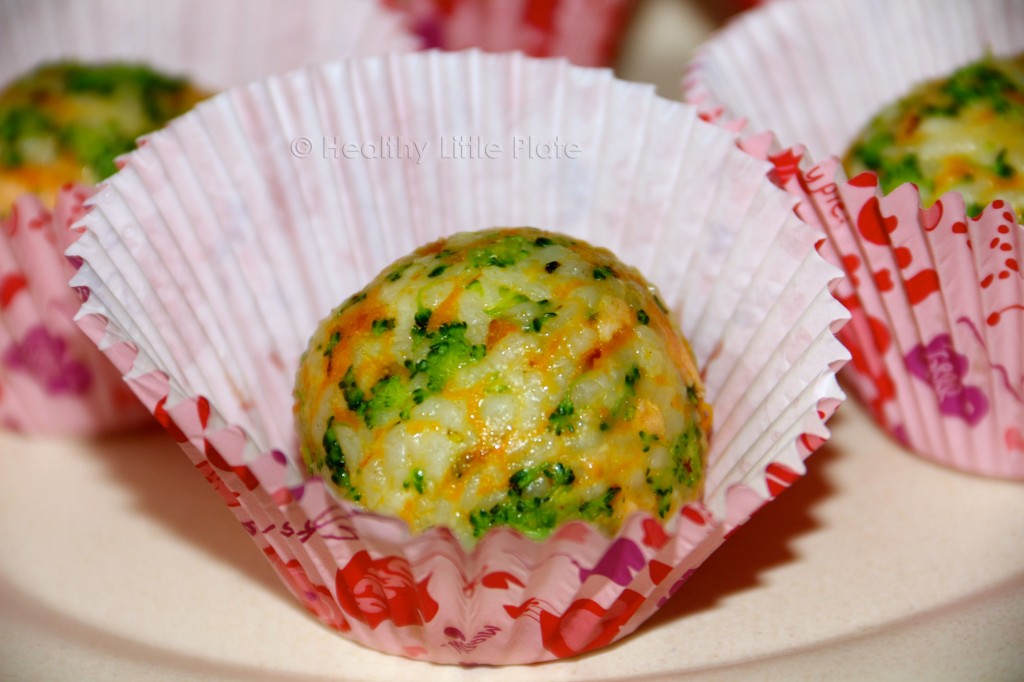 These rainbow rice balls are vibrant, appealing, tasty, healthy and definitely fun to eat. This recipe includes carrot, broccoli and salmon but you certainly do not have to limit yourself with only those ingredients. You can play around with other veggies or fishes, as you like. This is also a great dish that you can try to make your toddler eat some of his not-so-favorite vegetables by paring them with his favorite ones. I imagine yellow radish and sweet peas would make a great combo too. The main reasons why I use salmon in this recipe is: one, Angela loves salmon and two, salmon is quite fatty after cooked through; it makes the rice less sticky during the ball forming step.
If you have some more time at hands, try to let your toddler form his own rice balls. It certainly will not be as beautiful as the one you make but he will have a lot of fun "making his own food" and that almost guarantees some extra bites during mealtime.
Another thing that I love about these rainbow rice balls is that they can become a very decent balanced meal for the whole family. You can make a big batch of mix vegetables and fish (or meat if you like), set aside some light seasoned portion for your toddler and season the rest as you normally would for the whole family. How easy is that?
Happy cooking!
Ingredients
• 1 cup sushi rice (or any other short-grain rice)
• 50 gr deboned salmon fillet
• ½ big carrot (about ½ cup grated carrot)
• ½ chopped broccoli florets (only the top green part)
• 1 tsp. minced garlic
• ¼ onion, finely chopped
• 1 tsp. fresh or dried dill
• Salt and pepper to taste
• Oil to sauté
Instructions
Cook rice according to package instructions. Add 50ml more water than the package indicates. When the rice is cooked, leave it in the pot with lid covered to keep warm.
In a pan, sauté garlic and onion until a bit golden (takes about 1 minute on medium heat). Add salmon fillet and give each side 2 minutes on the pan. Take the salmon out and add broccoli to the same pan and stir occasionally on low heat. Flake the cooked salmon and add it back to the pan together with grated carrot and dill. Cook for about 1 minute more. Stir thoroughly until everything is well mixed. Add salt and pepper to taste (I add a tiny pinch pink Himalayan salt). Scoop onto a mixing bowl.
Add the rice to the mixing bowl and give it a good mix until the rice and sautéed salmon-veggie are well combined.
Get a large piece of cling film (about 4 times your palm), scoop a heaped spoon of the mixture onto the cling film, gather the edges of the cling film and squish the rice into the cling film while turning it around to form a ball. Remove and repeat with the rest of the rice mixture.

Note: you can also make rice balls with just your hands (without the cling film), make sure you prepare a bowl of water to dip your hands in before you scoop the rice onto your palm to prevent sticking (you need to water your hands every time you start making a new rice ball).