These stuffed cabbage rolls are so much fun to make and to eat, especially for toddlers. If you have a toddler who is always so eager to help out in the kitchen then this is the perfect dish to make use of your little helper. Be it peeling garlics, shallots and washing cabbage leaves or mixing the filling, your toddler will love to join you in making these stuffed cabbage rolls.
Do not let the list of ingredients scare you. Making these rolls is much easier than you thought. You just need to work methodologically (follow my instructions) then you will be fine. I used the flat type of cabbage for these stuffed cabbage rolls because of its large leaves but you can use any other types of cabbage you wish.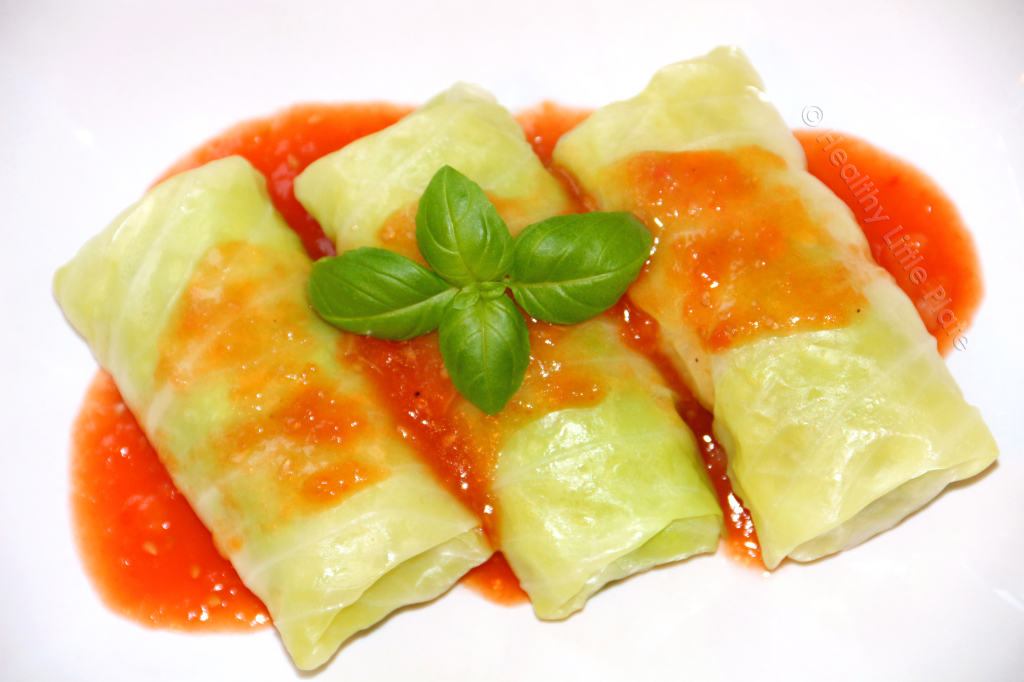 The finished dish never fails to excite Angela (and us). The aromatic subtle taste of the stuffing combined with the tender juicy cabbage leaves with some zing in the tomato sauce is to die for. We just love this combination. You can serve these stuffed cabbage rolls with steamed rice on the side or just as they are. They make a perfect fun dinner for toddlers.
These stuffed cabbage rolls can also easily be vegan. Just substitute the beef stuffing with some vegan stuffing of your choice. I imagine lentils, quinoa and herbs will make an amazing combo too.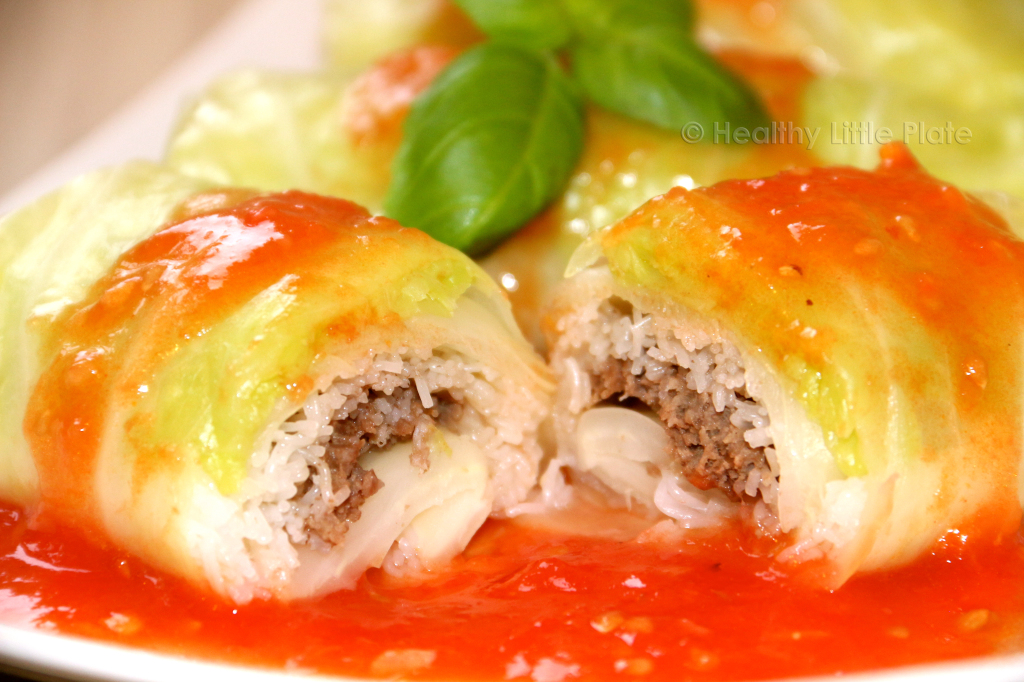 Ingredients
For the cabbage rolls

• 6-8 whole cabbage leaves, washed
• 250 grams minced beef
• 150 grams vermicelli
• 1 clove garlic, minced
• 2 small shallots, finely chopped
• 1 tbsp. chopped fresh chives
• 1 tsp. olive oil
• 1 tsp. potato meal
• Salt and pepper to taste.

For the sauce

• 3 large tomatoes
• 2 clove garlic, minced
• 2 shallots, finely chopped
• 1 tsp. olive oil
• 1 ½ tsp coconut sugar
• 1 tbsp. potato meal
• Salt and pepper to taste
Instructions
In a mixing bowl, add the beef, garlic, shallot, chives, potato meal, olive oil, salt and pepper and mix thoroughly until everthing is well combined. Cover with cling wrap and let it rest in your fridge while you prepare the cabbage leaves and vermicille.

Do not discard the water in the sauce pan (see following steps), just reuse it for the cabbage leaves, tomato and vermicille so you do not have to boil water 3 times.

In a large sauce pan, bring some water to boil. When the water starts boiling, submerge the cabbage leaves in and turn down the heat to low. Cook for about 1 minutes until the leaves become just tender (enough to roll), but not cooked through. Remove the leaves, run them under cold tap water. Drain and set aside.
In the same sauce pan (with boiling water), add the tomatoes and let it cook on low for about 2 minutes. Remove and run under cold water. Now their skin should come right off when you start peeling. Peel and discard the skins. Get a hand blender and blend the peeled tomato on high until you get a tomato puree. Set aside to use in the sauce later.
In the same sauce pan (with boiling water), add the dried vermicelli and let it cook for 1 minute. Turn off the heat and let it sit in boiled water for another 1 minutes. Drain under cold running water. Set aside.
Make an assembling line start with: cabbage leaves, vermicille, beef filling and an empty plate at last for the finished rolls. Then follow the steps below (see picture collage below) for instructions on how to make the rolls.
When the rolls are finished. Place in a steamer and steam on high for about 15 minutes or until the beef is well cooked. Serve with tomato sauce.

Prepare the sauce.

Heat the olive oil in a pan, add garlic and shallots and let them sizzle on medium heat for about 2 minutes or until golden. Add the tomato puree, sugar and potato meal. Let it simmer on low for 5 minutes. Stir to prevent sticking. Season with salt and pepper to taste. Serve on top of the cabbagel rolls.
Please excuse me for the low-quality photo below. I made the collage using an app on my phone that's why -__-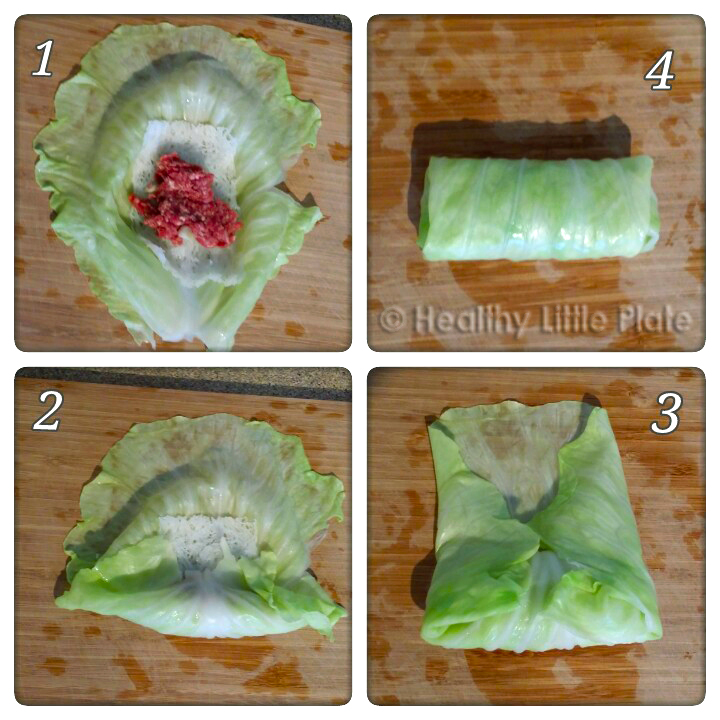 To make the rolls:
Step 1: Place a cabbage leaves on your chopping board / kitchen counter. Add some vermicelli then a heaped spoonful of the filling to the center of the leave. Tips: cut out the thick stem on the leaves will make it easier to roll.
Step 2: Roll from the stem side up to cover the beef filling.
Step 3: Fold the 2 sides of the leaves to the center and continue to roll to the end of the leave. Try to roll it tightly so that your rolls hold shape after steaming.
Step 4: Flip it up side down and place in your steamer.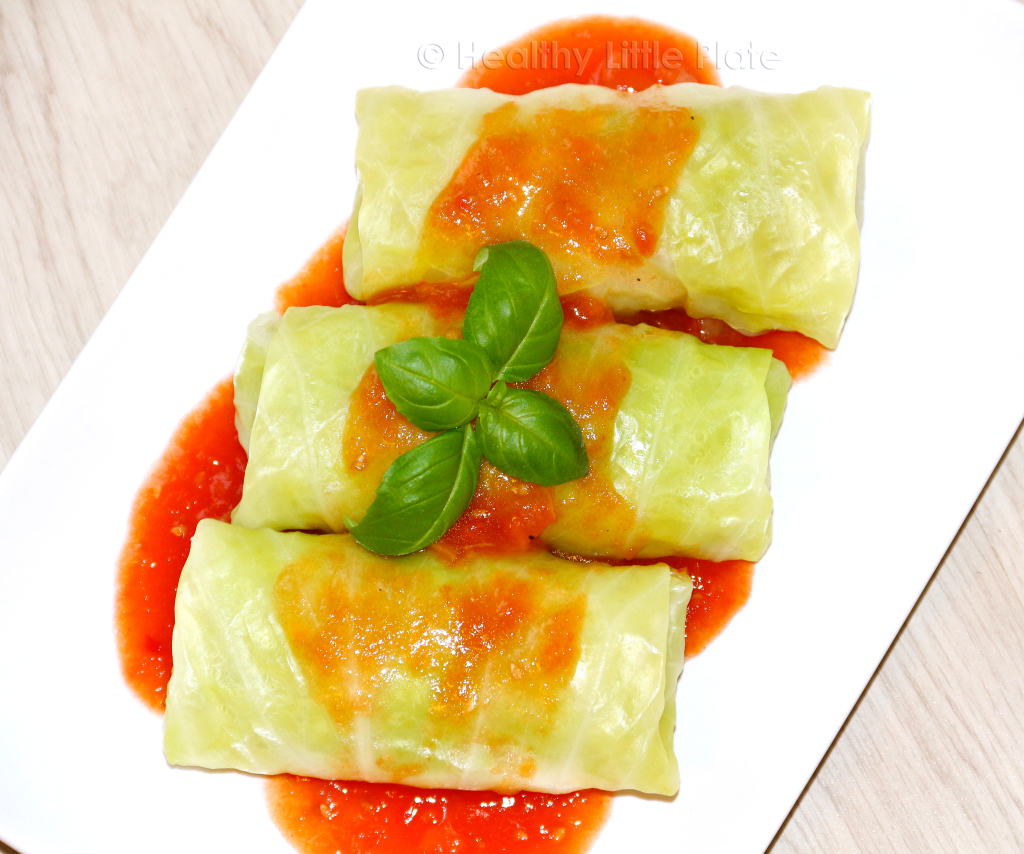 Happy cooking!