Sometimes a big mistake can become a huge achievement. This sugar-free chocolate cookies recipe is an example. I was in Paris the other day looking for some dark chocolate bars to munch on during our 5-hour-drive back to the Netherlands. So I rushed in a store and grabbed a few chocolate bars that said "noir" (=dark) on the package. My French never failed to surprise me, out of the 3 bars that I bought, 2 of them are pure chocolate. And by "pure" I mean, 100% pure cacao (!). Obviously there are some tiny letters on the packages that I failed to read. As much as I love dark chocolate, I normally go for 70%-80% dark, not 100% pure chocolate. Never in my life have I been so dumbfounded by the taste of chocolate. I could not bring myself to appreciate the bitterness of some pure cacao on my tongue. So I came home with a mission: make something delicious out of that pure cacao. They are too healthy and precious to waste after all ;). You can read more about the health benefits of cacao here.
In order to not mess up the "healthiness" of the precious pure chocolate, I decided to go with sugar-free option (although adding a bit of raw coconut sugar will not do you any harm). I used dried mulberries, raisin and a bit of raw honey as a replacement for sugar. They worked wonder! These sugar-free chocolate cookies turned out much better than I expected. They are crunchy on the outside, slightly buttery soft on the inside (no butter was used in this sugar-free chocolate cookies recipe) and not too sweet. They definitely are one of the best healthy toddler snack options (Yes, I just said that). You go make some of these, give them to your toddlers and see if I was right ;).
In case you cannot find any 100% pure chocolate, it is possible to substitute with 70% dark chocolate (beware that they contain some sugar though) and skip the honey all together. You will still end up with a very appetizing treat for both you and your kids. Happy cooking!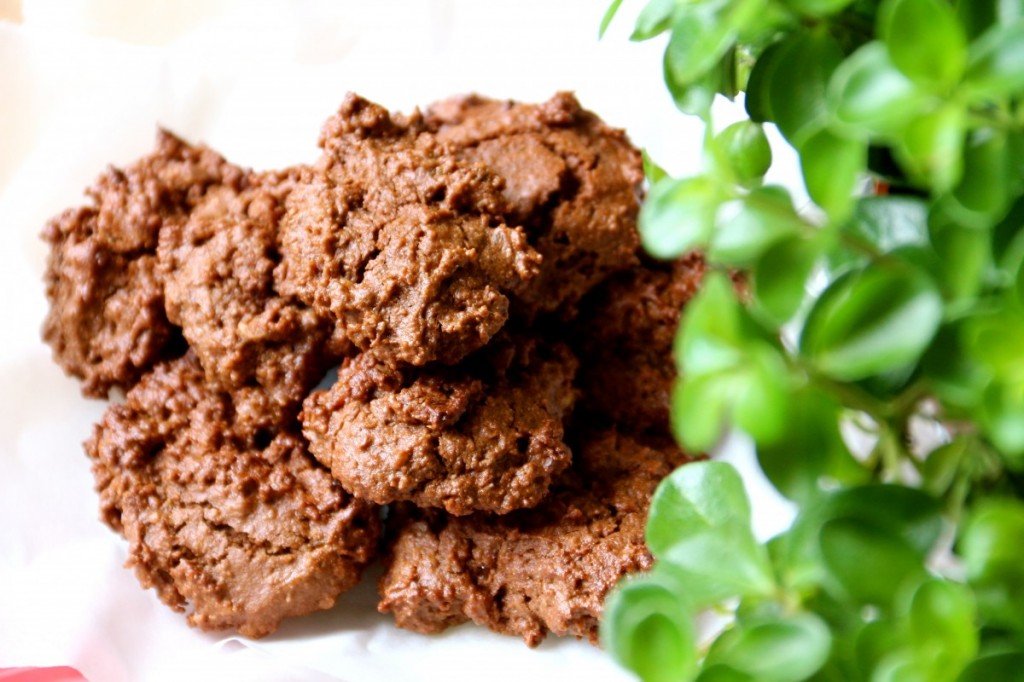 Sugar-free chocolate cookies
Ingredients
• 1 cup rolled oat
• 1 cup corn starch
• 10 gr. baking powder
• ½ cup dried mulberry
• ½ cup dried raisin
• 20 gr. dark chocolate
• 2 tbsp. coconut oil
• 1 tbsp. honey (I use raw honey)
• 1 large egg
• A pinch of vanilla
Instructions
Melt chocolate in a small pan on low heat & keep stirring to prevent burning. When the chocolate is completely melted, add coconut oil and keep stirring. Take off heat to cool down when the coconut oil is melted and mixed with the chocolate.
Preheat oven to 180 degree C. Place a piece parchment paper on your baking rack. You can also use other baking paper and spray with non-sticking spray.
In your food processor, add the rest of ingredient and pulse until a coarse mixture is form. Add the cooled melted chocolate & coconut oil and keep pulsing. You will end up with a semi-wet dark brown mixture. If the mixture is too wet, add some cornstarch and pulse.
Scoop a small spoon-full of the chocolate mixture onto the baking paper. Repeat with the rest of the mixture. Don't worry if the "cookies" look a bit rusty, they are meant to ;).
Bake for 10 minutes then turn them over and bake for another 2 minutes. Turn your oven off and let them stay in your oven for another 5 minutes. They will continue to bake. Transfer to a wire rack to cool completely.