I have been asked a few times what kind of diet we (Angela, I & my hubby) follow, whether it was paleo, vegan or any others. The answer is: none. We eat what we want to eat and feel happy eating. That includes tons of organic fresh fruits and (homegrown) vegetables, some grass-fed meat and fish and a lot of grain (mostly rice and quinoa). So occasionally you will see something looks like a typical paleo meal on our dining table while on other days some vegan treats (like these sweet corn crackers) are served on Angela's high chair tray . We just try to have well-balanced healthy nutritious meals without having to label them.
Let's go back to these sweet corn crackers. These definitely are a fun snacking option for your toddlers (hint: lunch box item). They are crunchy, sweet and a bit nutty in flavor. These can be dipped in homemade mayonnaise or tomato sauce or can be eaten just as they are. Alternatively you can also serve these together with a mixed salad for a quick lunch. I personally love that combo but Angela would just eat all the crackers and leave the veggies (!). I will take that for now considering how much goodness are there in these crackers though
If your tots do not eat fish and you worry about how to add some Omega-3 fatty acids to their diet, then these sweet corn crackers are your answer. This recipe contains flaxseeds and flaxseed meal – a great source of Omega 3 fats – will help you to do exactly that. Flaxseeds are also a very rich source of Vitamin B1, fiber, manganese and magnesium. For more health benefits and nutrition information about flaxseeds, read here
Have fun baking!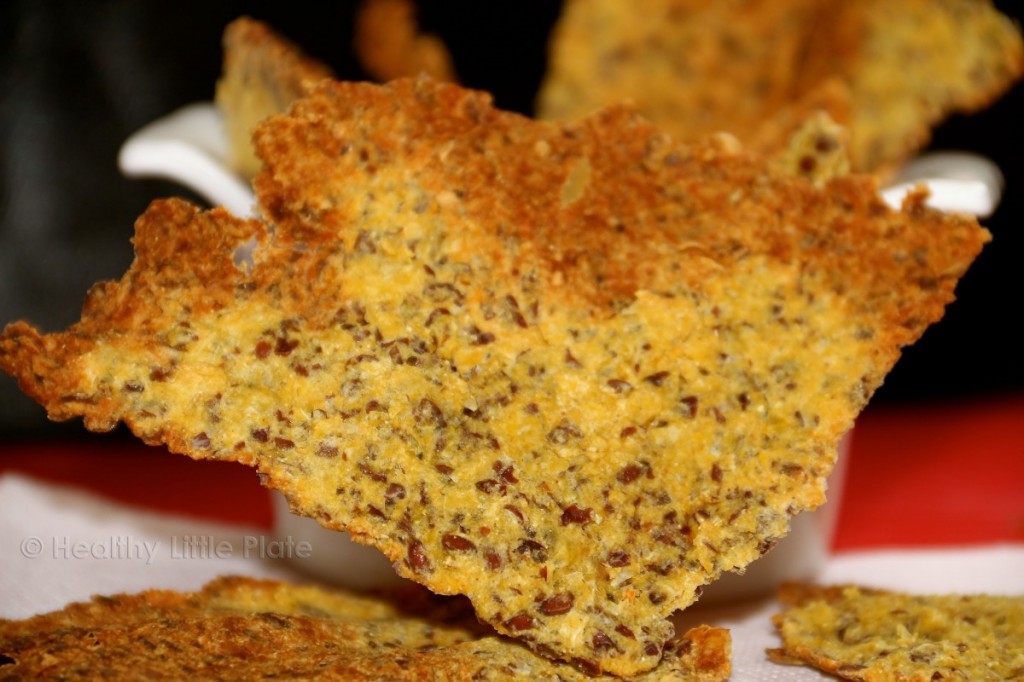 Ingredients
• 2 cups sweet corn kernels (I used fresh corn off the cob but you can also replace with organic canned corn kernels)
• ¼ cup golden flaxseed meal
• ½ cup corn flour
• 2 tbsp. broken flaxseeds
• 2 tbsp. corn meal or potato meal
• 1 tsp. coconut sugar
• 1 tsp. garlic powder
• 1 tsp. cinnamon powder
• 1 tbsp. melted coconut oil
Instructions
Preheat oven to 150 degree C.
Put corn kernels and flaxseed meal in your blender and blend until it turns into a smooth mixture (mixture will be a bit watery at this stage)
Scoop the mixture onto a mixing bowl and add the rest of the ingredient. Stir thoroughly until everything is well mixed.
Spray your oven tray with non-sticking oil. Spoon the mixture onto the tray and spread it out to achieve a very thin layer (try to spread them evenly so that they will be cooked through at the same time). Put the tray in the middle of your oven.
Bake for 45 minutes. Flip the crackers over and bake for about 10-15 minutes more or until golden. Make sure to keep your eyes on the oven during the last 15 minutes to prevent burn.

If some parts of the crackers are crispy before the others, which means you haven't spread them out evenly. You can take a scissors and cut out the part that are already crispy and leave the rest for a few minutes more in the oven. I like my crackers to look a bit rusty so I broke them down with my hands rather than cutting them with a pair of scissors.